If you're searching for a naturally beautiful design for your next project, consider these dragonfly embroidery patterns! Dragonflies symbolize change and transformation. In some cultures, dragonflies are considered to be good luck. No matter what you're looking to embroider, this beautiful subject will add an air of peace and prosperity to your design. 
Dragonfly embroidery patterns can be applied to virtually any fabric item: bags, clothing, coasters, blankets, and more. A dragonfly embroidery design that captures natural beauty is especially lovely on items that you'll have on display, such as decorative pillows, curtains, tablecloths, or dish towels. These easy embroidery patterns are great for beginners and experts alike, and look gorgeous when transferred to almost anything.
Take a stab at some of these beautiful dragonfly embroidery patterns!
Why You Should Make Dragonfly Embroidery
Have you ever watched a dragonfly on the move? The way it flies is captivating, and its wings capture sunlight and color in the most gorgeous fashion. It gives the feeling of a hazy, lazy summer day, and exudes a sense of calm and serenity. Can you think of a better natural design or symbol for happiness and good luck?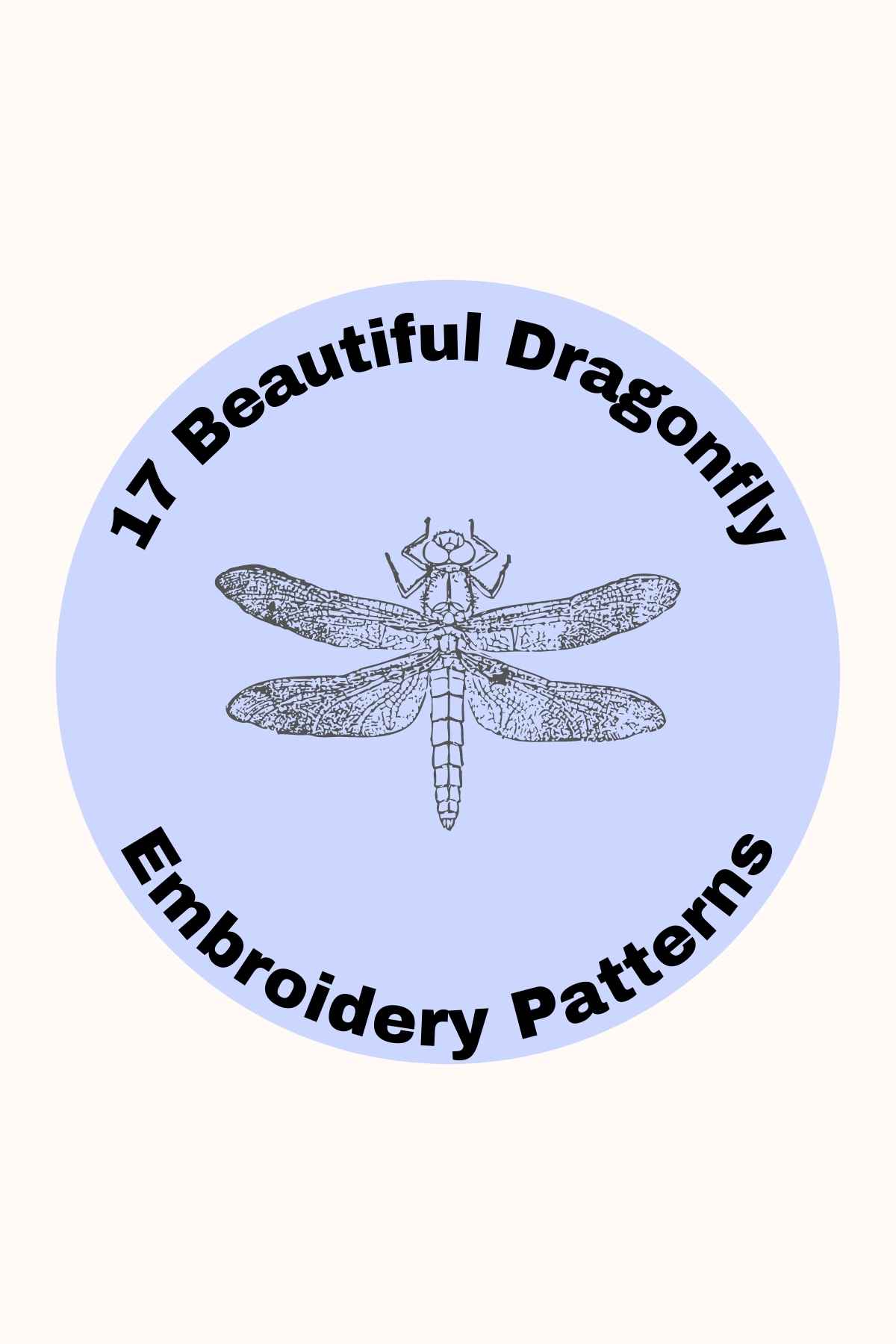 The patterns that we've compiled here express this stunning insect and its sentiments in a variety of ways that range from simple to complex, from plain to robust. This makes them great for small gifts, such as satchels and coasters. They're also great for having around the house, particularly in places with warm sunlight.
To share a bit of positive energy either at home or with your loved ones, these dragonfly embroidery patterns are the way to go!
Dragonfly Embroidery Ideas
One of the main appeals of embroidery is its ability to incorporate many colors. That's why we think that dragonfly embroidery patterns are just perfect for this medium! You can capture the iridescence of their wings on fabric, as well as give off both a sophisticated and warm, homemade feel.
These patterns below capture all of the different appeals that embroidery has to offer: bold and beautiful colors, simplistic designs, natural scenery, and elegant details. Choose a design that matches your goal, experience level, and the item you're embroidering!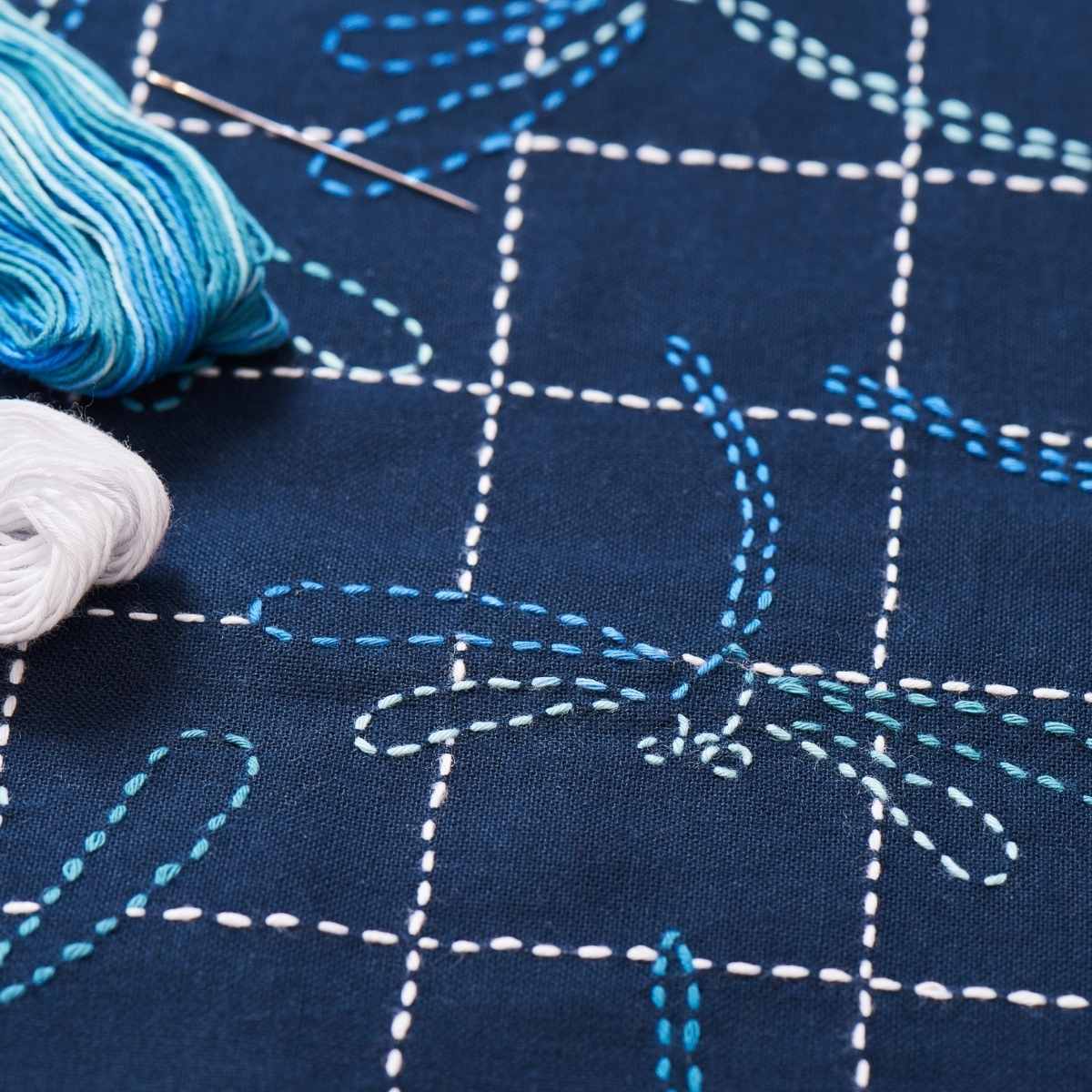 Bold and Beautiful Dragonfly Embroidery Patterns
If you're looking for patterns that leave an impression, then look no further! These gorgeous dragonfly embroidery patterns certainly make an impact, incorporating bold colors and captivating designs.
1. Detailed Dragonfly Among Grass
This beautiful design puts all of the detail in the wings. Background designs are full color and bright, with gorgeously contrasting pinks, greens, and yellows.
This tutorial shows how to create beaded dragonflies with a beautiful gradient effect on the wings.
3. Bright Orange Beaded Dragonfly
Another beaded design, this pattern also features a speckled golden background. This would be particularly beautiful on a curtain or tablecloth that will capture sunlight at certain times of the day.
4. Dragonfly Delight Embroidery Pattern
Three dragonflies dance among each other in this beautiful scene. Small yellow flowers and greenery add a whole other dimension of color!
Natural Dragonfly Embroidery Design Ideas
Dragonfly embroidery patterns that show these beautiful insects in their natural habitats and among greenery are particularly gorgeous. These designs are great for pillows, towels… anything that you'll have on display. From daisies to sunflowers to cattails, these lovely dragonfly embroidery patterns add some floral flair to your project!
5. Dragonfly and Dandelion Design
Dragonflies represent good luck, and this dandelion design is perfect for representing that sentiment. This pattern is comforting and calming, perfect for pillows or other display items.
6. Lotus, Cattail, and Dragonfly Over Water Pattern
A gorgeous scene above the water among cattails and grass, with a beautiful lotus flower floating below. This design would be great to frame, and is fairly simple!
7. Colorful Daisy and Dragonfly Design
This design involves a fair bit of stitching, so beginners beware. It is a bright, cheerful pattern that gives off the feeling of a warm summer day.
This full, bold design depicts our subject resting on a vine. It's less realistic than these other natural patterns but is slightly more abstract and interesting to look at.
9. Green Dragonflies Among Cattails
A monochromatic pattern, this geometric design is great for beginners and would look fantastic on almost any item!
Simple Dragonfly Embroidery Patterns
Sometimes, less is more. These very simple dragonfly embroidery patterns feature monochromatic or minimalistic projects. They're great for beginners, and also really help to highlight the dragonfly as the focal point.
10. Simple Dragonfly Shirt Embroidery
The line art of this design makes it great for any project. It is especially suitable for clothing, as is shown in the example, and it is a fantastic pursuit for beginners.
11. Blue and Purple Abstract Design
This artistic rendition could be done in any color combination and is shown here in blue and purple. Slightly abstract, it depicts the beautiful dragonfly without being quite so on-the-nose about it.
Simple, sophisticated, and stunning! Another great pattern for beginners, this plain black outline can also be done in any color that best suits the fabric it's being transferred to.
Elegant Dragonfly Embroidery Ideas
These dragonfly embroidery patterns really capture their beauty and elegance. They feature simple swirls, ripples, and complimentary colors. This sophisticated style is perfect for any purpose or occasion.
A great pattern for gifts! The example here shows the letter W, but you could do any letter of the alphabet! A fantastic baby shower gift or present for a young child.
14. Cattail and Dragonfly Pillow Kit
This elegant design would look fantastic on a dish towel or pillow- any object that can be reasonably bordered. It's colorful without being flashy, and comes as a helpful kit.
15. Simple Green Dragonfly Design
The wings are the star in this pattern, making it a great standalone design. Though there is some level of intricacy, this project is still simple for beginners to try.
16. Blue Dragonfly Among Purple Flowers
There is so much dimension and fluidity in this pattern! It features blue dragonflies, purple flowers, green leaves, and brown vines. However, it is still a sophisticated pattern due to the nature of its design aspects.
17. Circular Red-winged Dragonfly Pattern
This circular design could be transferred to almost any item. Coasters, bags, and pillows would be most suitable, though it would also look great framed.
More Pattern Ideas You'll Love
25 Small Embroidery Designs and Patterns – Tiny patterns are perfect for any occasion! Not only that, but they can be made very quickly, so last-minute gifts can be personalized in a flash. Small patterns are great for beginners who want to try out all sorts of designs as well. Check out this list of 25 adorable embroidery patterns that'll have you stitching from sunrise to sunset!
21 DIY Bee Embroidery Pattern – The bee craze is far from over! Add some bold black and yellow to your decor, clothing, or upcoming gift with these super cute DIY bee embroidery patterns. And if black and yellow isn't your thing, then we have plenty of other colored bees for you to choose from as well. Take a look and see if you can't find an adorable buzzing design for your next project!
30 Mushroom Embroidery Patterns – Get in on the cottage-core trend with these great mushroom embroidery patterns! From toadstools to truffles, mushroom designs can suit any season, any style, and any situation. Plus, they're adorable! We have s for beginners and experts alike, so check out our 30 favorite mushroom patterns for inspiration for your next project!