Flowers are a popular subject for embroidery. Daisies, in particular, are a favorite of many stitchers because they exude freshness and happiness. There's even a stitch named "lazy daisy"! In this article, we share beautiful daisy embroidery patterns so you can add a touch of the flower's whimsy to your next embroidery project.
Some of the most beautiful daisy embroidery patterns you will find include daisy garlands, daisy bouquets, a daisy heart, and daisies in a basket. You can stitch these floral designs as part of a larger embroidery project or stitch them on their own, as a simple project for you or your kids.
Before you start stitching daisies, you'll need to choose the colors for your daisy embroidery patterns and purchase all of your supplies. Some of these designs will also need to be transferred onto fabric before you begin.
Why You Should Make Daisy Embroidery Designs
Daisies remind us of summer and picnics in the park. With some daisy embroidery designs in your home or accessories, you can bring that summer feeling any time of the year.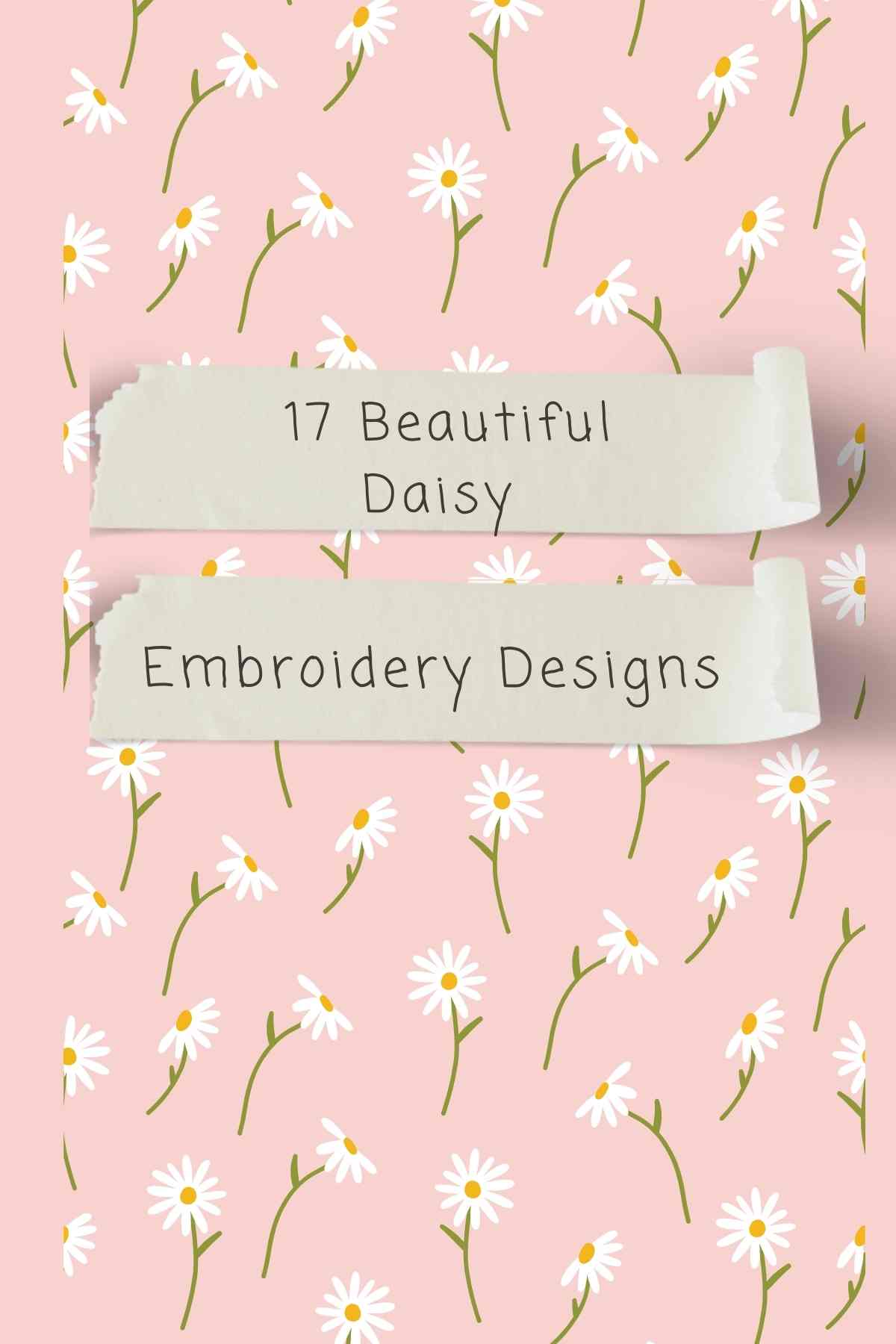 Embroidered flowers are also beautiful and they last longer than cut ones, so embroidered daisies do make a wonderful decoration and a perfect present for the flower-loving people in your life.
Let's get stitching!
Easy Embroidery Patterns With Daisies
If you're a beginner or you'd like to learn a new technique, the best place to start is with something simple. These patterns will make you want to stitch more, so make sure you pick up the right supplies with some extra thread just in case you have to start over (we hope not!)
This is a simple daisy pattern that you can stitch in one or two colors. It's perfect for beginners, since all the stitching is done on the fabric's surface, and there are no back stitches involved.
2. Daisy Pillow
This handmade embroidered pillow is a great accent piece for any home. It's also a nice way to add some foliage to your house during winter when there are no flowers around.
This pattern is a collection of daisies and other flowers that can be stitched onto corners. It is a  simple but classic pattern that would look beautiful on towels, tablecloths, and even sheets.
This pretty pattern comes with detailed instructions. It's perfect for beginner embroiderers and it can be worked in running stitches. The designer suggests lazy daisy for the flowers, stem stitch for the stem, and fishbone for the leaves. The pattern is great as a coaster, table topper, quilt square, or pillow appliqué.
This cute little daisy, which looks similar to the previous one, is perfect to add a touch of springtime freshness to your home. You can make an embroidered picture or use it as a decoration on bags, shirts, pillows, and even crochet coasters.
6. Daisy Heart
This would make the perfect gift for mom on Mother's Day, especially if she loves flowers or if she is into needlework. You can stitch it in different colors and hang it on the wall as an art piece. If you decide to turn it into a pillow, you can use any color and fill the inside with a soft cushion.
7. Minimalist Daisy Embroidery Pattern
This minimalist daisy pattern is great for sewing onto bag handles, bookmarks, headbands, or any long fabric. It would also look very nice hanging on the wall.
8. Daisy Cluster Embroidery Pattern
Flower clusters are usually a bit more challenging, but this pattern is something you can easily follow. Make it your transition project into the more complex and exciting world of floral embroidery!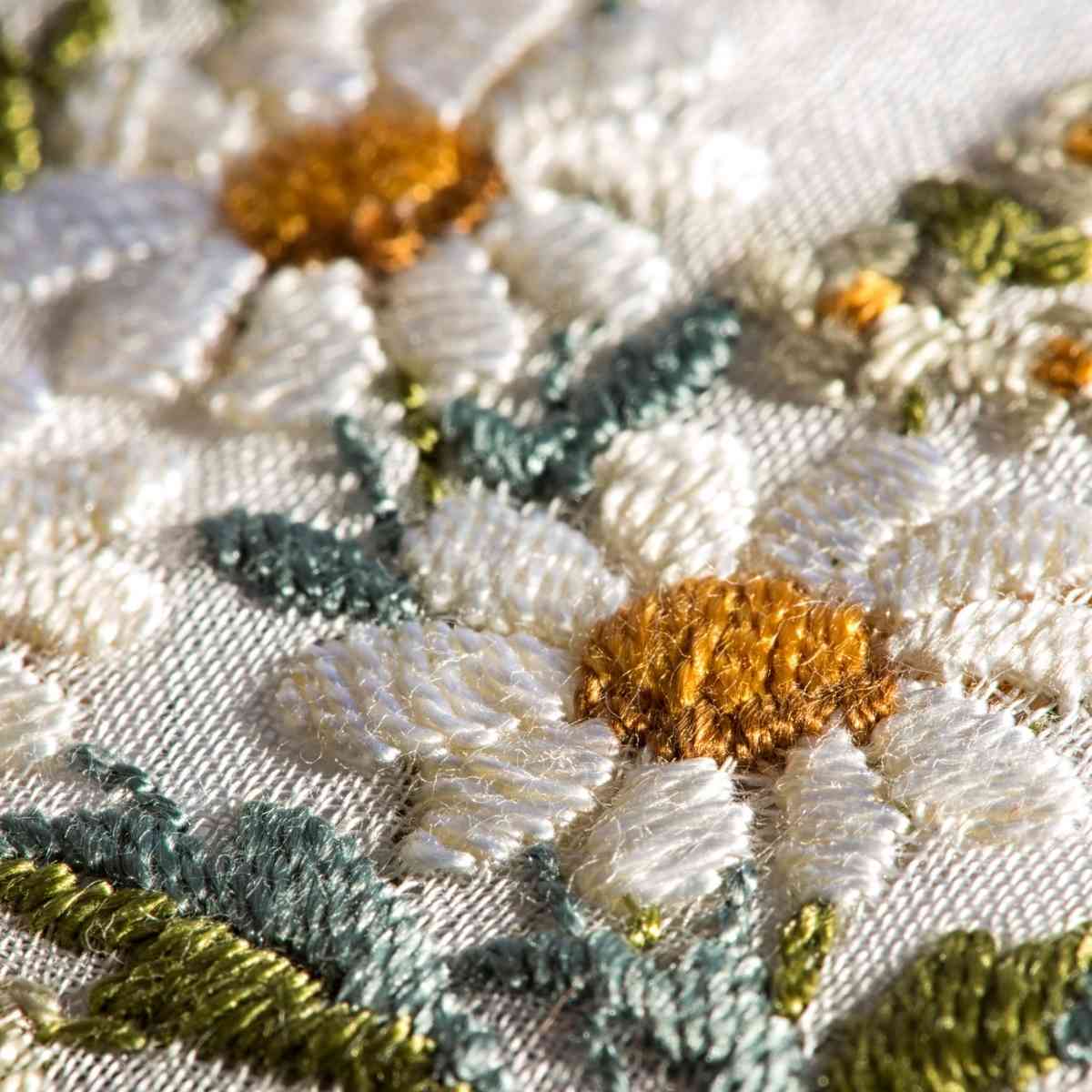 Colorful Daisy Embroidery Designs
Embroidery patterns that come in beautiful color palettes are fun to work with and can really brighten up your home.
These pretty little daisies are would make perfect decorations for your home during spring and summer. The pattern comes with a color guide, a materials checklist, and some tips for a successful project!
10. Daisy Mug Mats
This pattern can be transformed into pretty mug mats that would look gorgeous on your coffee table. It's very easy to make even if you've never worked with embroidery before. The pattern comes with step-by-step instructions in a video format.
11. Summer Daisies Embroidery Pattern
This beautiful, lifelike design features small daisies that are outlined with stem stitches and filled with backstitches. It would look lovely on curtains, pillow covers, napkins, and towels.
This beautiful whitework pattern is great for making pretty curtains, veils, tablecloths, and similar fabric. Note, however, that it will need a bit of work using techniques such as pulled thread work, drawn thread work, satin stitch, stem stitch, and French knots.
13. Daisy Wreath Embroidery Design
This beautiful flower wreath makes a wonderful pattern for anything you want it to be on! It would look extra lovely on pillows and it can be made in any color you like.
Perfect to decoupage onto gift boxes, picture frames, lampshades and so much more. The pattern features a classic set of daisies hand-embroidered on cotton.
Daisy Embroidery Patterns For Expert Embroiderers
The patterns you'll find below are a bit more challenging, so if you're an advanced embroiderer, you might want to give one of these a try. If you've been stitching for a while, don't be afraid to challenge yourself!
15. Daisies in a Basket Pattern
This pretty pattern is great for adding color to your home. You can make an embroidered picture or use it as a decoration on bags, pillows for your sofa, table runners, and even crochet coasters.
16. Daisies and Poppies Embroidery Pattern
This collection of beautiful flowers is a refreshing addition to any home. It's a great way to decorate with floral patterns during spring and summer when everything is blooming outside.
17. White Daisies and Butterflies Embroidery Pattern
This pretty and busy design is great for making table runners, napkins, or pillow covers. You can easily color it in with your favorite colors to make it look extra colorful and springlike.
More Pattern Ideas You'll Love
27 Sunflower Embroidery Patterns. A sunflower embroidery pattern is one of the most popular patterns in needlework. Floral embroidery patterns are always beautiful to look at, and can even be easy to do. Sunflowers symbolize happiness, which is why they are so common to use in embroideries!
35 Funny Embroidery Designs. Tap into your inner comedian with these funny embroidery designs! Who knew needlepoint could be so entertaining? Embroidery has made a comeback in recent years and with it has come some stitching ideas that are truly hilarious. Some of these designs even feature a couple of expletives. If you have sensitive family members (or kids) you may need to save those for a special, swear-word friendly occasion!
30 Festive Christmas Embroidery Designs. These Christmas embroidery designs are just the thing to get you into the holiday spirit. Have you started planning for Christmas yet? Maybe you're a little late to the game and are here for some inspiration. Wherever you're at in your preparations, these embroidery designs will help add a little cheer.