Tap into your inner comedian with these funny embroidery designs! Who knew needlepoint could be so entertaining? Embroidery has made a comeback in recent years and with it has come some stitching ideas that are truly hilarious. Some of these designs even feature a couple of expletives. If you have sensitive family members (or kids) you may need to save those for a special, swear-word friendly occasion!
Funny embroidery doesn't have to be difficult. If you choose a pattern with straightforward directions, you can embroider anything! Whether you want to embroider images, words, or both, there are tons of funny embroidery patterns out there to choose from. Get creative with your embroidery and add a little humor to your stitches! You can test out these funny embroidery designs any time of year.
For a craft that will make you laugh, these funny embroidery patterns are sure to do the trick!
Why You Should Make These Funny Embroidery Designs
You should make these funny embroidery designs if you're looking to have fun with your needlework! The pattern ideas include humorous sayings, cheeky images, and entertaining puns. There are design ideas for beginners as well as for the more advanced craftsmen out there. Use this list as inspiration for home decor, gifts for your loved ones, or keep your creations for yourself! There is truly no shortage of possibilities when it comes to embroidering.
If you're brand new to the world of embroidery, you're going to love the designs below. Learning how to embroidery funny designs is the perfect way to make embroidering more playful. You'll want to laugh out loud as you work – what's better than that?
The pattern ideas at the end of this post aren't for those of you who can't stand swear words. But, don't worry, we've used asterisks to make this article safe for work.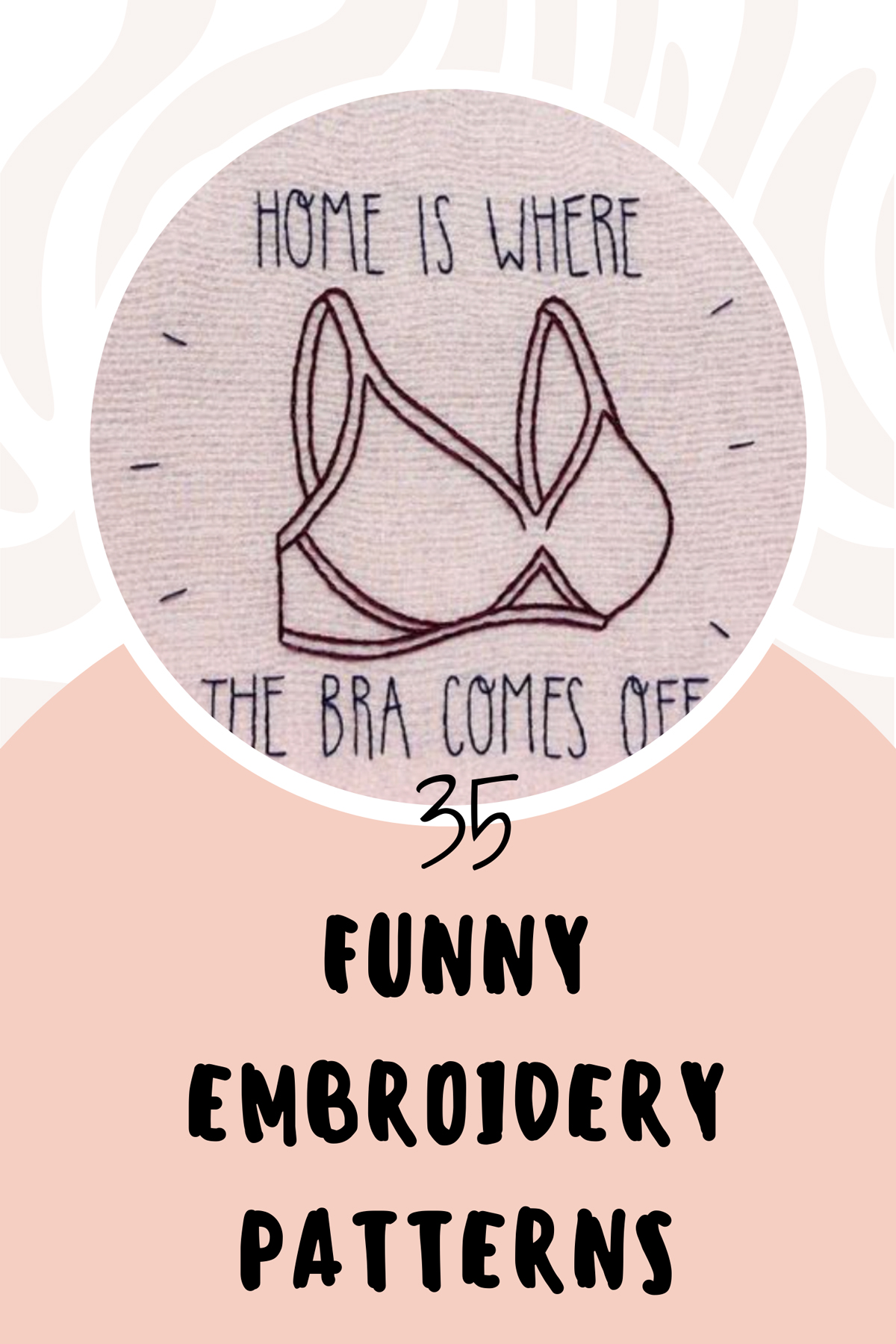 How to Use Funny Embroidery Patterns
Never used an embroidery pattern before? Or, maybe you simply need a refresher on how to use one correctly. As with most arts and crafts projects, you just need proper supplies, and you're ready to start creating.
You can use any of the patterns on this list exactly how you use any other embroidery pattern. If you've never used a pattern before, or are used to stitching freehand, below are some tips on how to use a pattern.
Tracing the pattern
This is the easiest method for using an embroidery pattern! You'll need a source of light such as a window or a light box to get started. Place the pattern on the light source, and then cover the pattern with a piece of fabric. You should be able to see the lines. Trace them with a pencil!
You can also use tracing paper. You'll need some lightweight tracing paper for this technique. Pin the tracing paper onto the piece of fabric you plan to use. You can stitch the design directly on the paper. When you're done, gently remove the tracing paper and admire your craftsmanship!
Using heat to transfer the pattern
You'll need a special heat transfer pen for this method. Using the pen, trace the pattern on a piece of paper. To transfer your design onto the fabric, place the marked up paper on top of it and press with an iron. The heat will make the tracing stick to the fabric. Be aware that the markings are permanent, so if you're working from a delicate pattern you may want to use the tracing method.
Another way to use your iron is to use a hot iron transfer pattern. Simply iron the pattern onto your fabric and start stitching!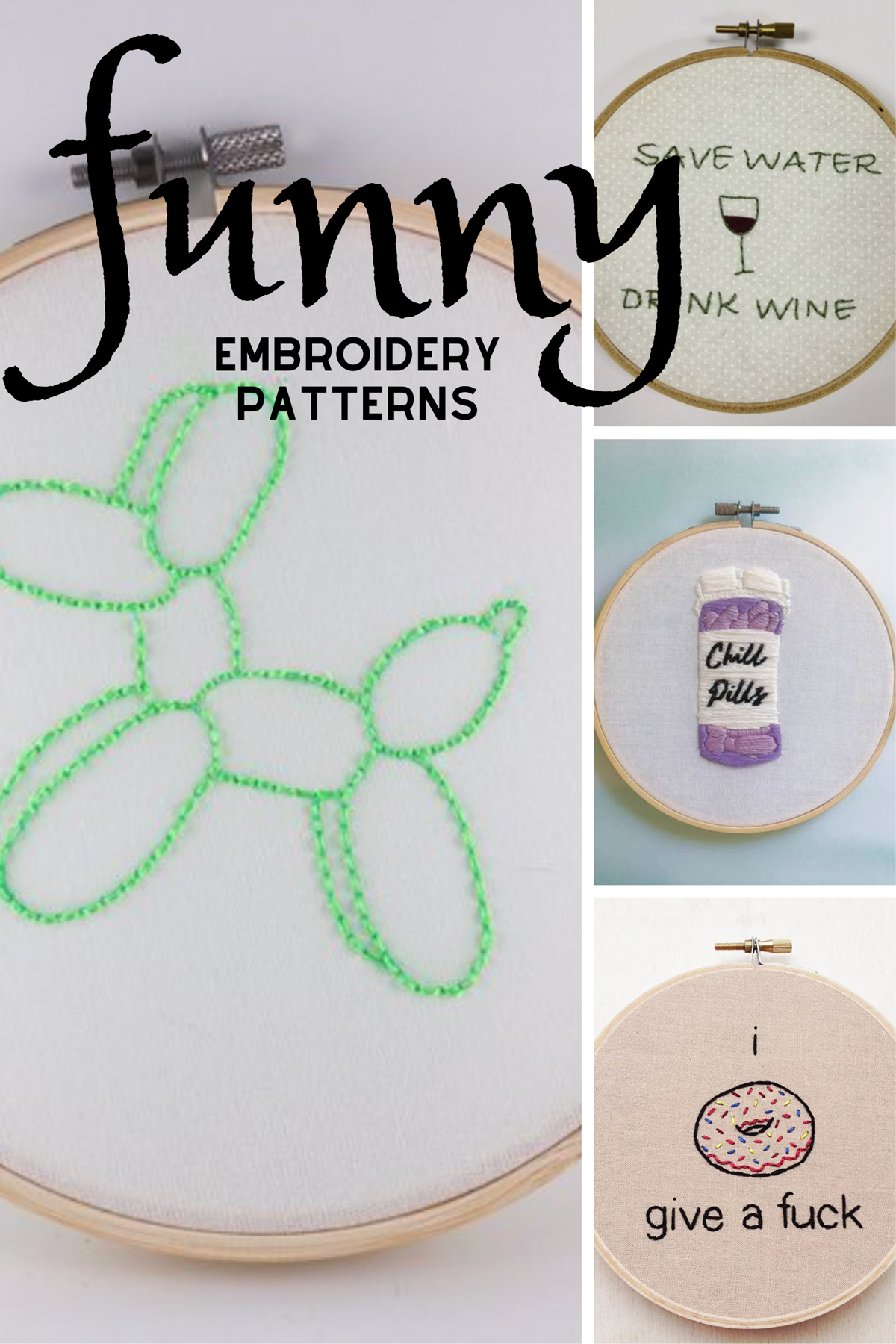 Funny Embroidery Designs
Sew it, don't say it with these funny embroidery designs. We love the idea of making these patterns into wall art for your home or to give as gifts. It's a unique way to share your sense of humor with your friends and family!
Funny Embroidery Patterns With Puns
Have fun with puns. Some of these sayings may lean a bit on the cheesy side, but that's what we like about them. Most of these puns have to do with food. We're not talking about oranges or bananas, these jokes are about tacos and donuts. In our opinion, you can't get much more funny than that!

Funny Embroidery Designs With Words
Practice your lettering sewing skills with these funny embroidery designs with words. Sometimes you just want to blatantly spell out a joke, and these designs do just that. Many of these designs also feature floral or geometric accents. These types of patterns are perfect if you want to hone your embroidery skills.
These embroidery ideas aren't for the faint of heart. But, there are just some moments when you need to curse to get your point across. If you're known for your potty mouth, these ideas are right up your alley. You've been warned: You may want to skip this section if you want to make a funny gift for kids.
Mushroom Embroidery Patterns – Aren't mushrooms the cutest? We love this round up of the best mushroom embroidery patterns. Between designs that feature flowers, autumnal leaves, or just plain old funghi, there's something for everyone. These design ideas can be used on clothing, as wall art, or as gifts! If you like nature-themed embroidery patterns, consider adding a toadstool or two to your collection!
Floral Embroidery Ideas – There's just something so rewarding about stitching up a floral design! There are so many different ranges of patterns to choose from. Whether you're a beginner who is just starting out, or you're a seasoned needlepoint veteran, check out these floral ideas.
3D Puff Embroidery Ideas – If you're looking for a way to step your embroidery game up, consider buying an embroidery machine. There are so many different projects that you can do with one, including 3D puff embroidery! 3D puff embroidery is a style of stitching that you've likely already seen on athletic wear like baseball hats. Don't stop at sportswear! You can use this technique on ski hats, backpacks, and even t-shirts. Pro-tip: before you invest in a new machine, if you have a sewing machine, check to see if it has embroidery capabilities.