Maybe you have a favorite sweater that needs a new scarf or mittens to go with it? Or you're just looking for something to add that extra buzzing energy to your room? Why not consider some embroidered bees!
There are several types of bees available for stitching. Some patterns are simple and you can finish them in a day, while some will surely need an entire weekend or even more.
Our top DIY bee embroidery patterns include rainbow bees, hippie bees, the Bumblebee, and honeycomb and bees. Try any of these while adding a dash of your own creativity to make it minimalist or more complex. To get you started, we've come up with a list of 20 DIY bee embroidery patterns that you can start sewing today.
Why You Should Make Bee Embroidery Patterns
Bees are generally loveable because not only are they often tagged as hardworking, they're a common sight in gardens! These patterns are simple and bee-utiful. Most of the designs are beginner friendly so don't be afraid to bring out your kit and have a go!. These designs can be a perfect match for your clothes, garments, and even your indoor decor.
Simple Bee Embroidery Patterns:
Here is a list of simple patterns you can follow to create your own, unique bee embroidery designs.
1. Classic Black and Yellow Stripes: This pattern features a rather standard and simple design of alternating yellow and black stripes.
2. Bee Mine: This is a little more involved, but can be a great project for children or those looking to hone their embroidery skills. The color palette is simple and will look wonderful on a shirt. You can play with colors on this pattern and let your creativity do its work.
3. Queen Bee: What's a bee embroidery pattern list without the queen? This pattern is distinct and slightly larger than the normal bee pattern. Put a crown to differentiate the queen bee from the other bee embroideries.
4. Honeycomb: This pattern idea is one that I personally enjoy, but it should be done on a thinner fabric (like felt) to make the design pop. Try to fit as many hexagons as you can to fill the whole fabric of choice.
5. Rainbow Bees: This bee embroidery idea features a simple yet colorful design that looks good on gloves or a scarf. Putting additional rainbow pollen will match the theme of this pattern. Remember, just bee yourself when doing this design.
6. Heart Bees: Perhaps you are in love! If so, then these bees are just for you. These cute bees have heart-shaped wings. Overuse the light red or pink thread to pour out your love. It is a good combination with yellow, making it pleasing to the eyes. Once done, give it to the person you are meant to bee.
7. Polka-Dot Bee Themed Colors: This is a bee-inspired polka-dot design (not stripes, like most other patterns) and there are only three colors (added simply to make the design pop).
8. Solid White Bees with Black Stripes: This simple pattern idea is great for those who prefer not to use too many colors. The bees are outlined with black stitching to make their wings pop
9. Solid White Bee: This design perfectly fits with a darker shade of clothing. I like wearing black and navy blue clothing and stitching solid white bee embroidery will look cool on some of my clothes.
10. Solid Black Bee: This bee is simple yet effective and can be stitched on almost any color sweater or scarf, especially if you use white thread for the background (which makes it easier to see your design). If you want to play it use this pattern.
11. Solid Blue Bee: This pattern is not as colorful, but features the lovely blue color that many people enjoy using for bees. Fun fact: In Hinduism, the blue bee represents Vishnu the supreme god and symbolizes life, resurrection, and nature.
12. Solid Yellow Bee: A design perfect for black fabric and clothing. There's no need to stitch the black stripes for the bees. All you need is a yellow thread and your embroidery skills. If you want it to be more striking to the eyes a gold or metallic thread can be used.
13. Beehive – Instead of going for the bees, why not go for the beehive? This is a pattern that is simple and pleasing to the eyes. You may vary the design by putting a standpost or hanging the beehive on a tree.
15. Hippie Bee – This pattern is inspired by a hippie logo design added with our bees. The pattern is fairly small and simple. You can use 2 to 3 strand lines and bee details for this. It can be used as a hoop art or you stitch it on your shirt pocket.
16. Flying Bee: Another simple bee pattern that is easy to follow. This requires stitching a tiny bee and curving lines to form the track of the flying bee. It is also a good idea for an embroidery project for kids or just a design on your clothing.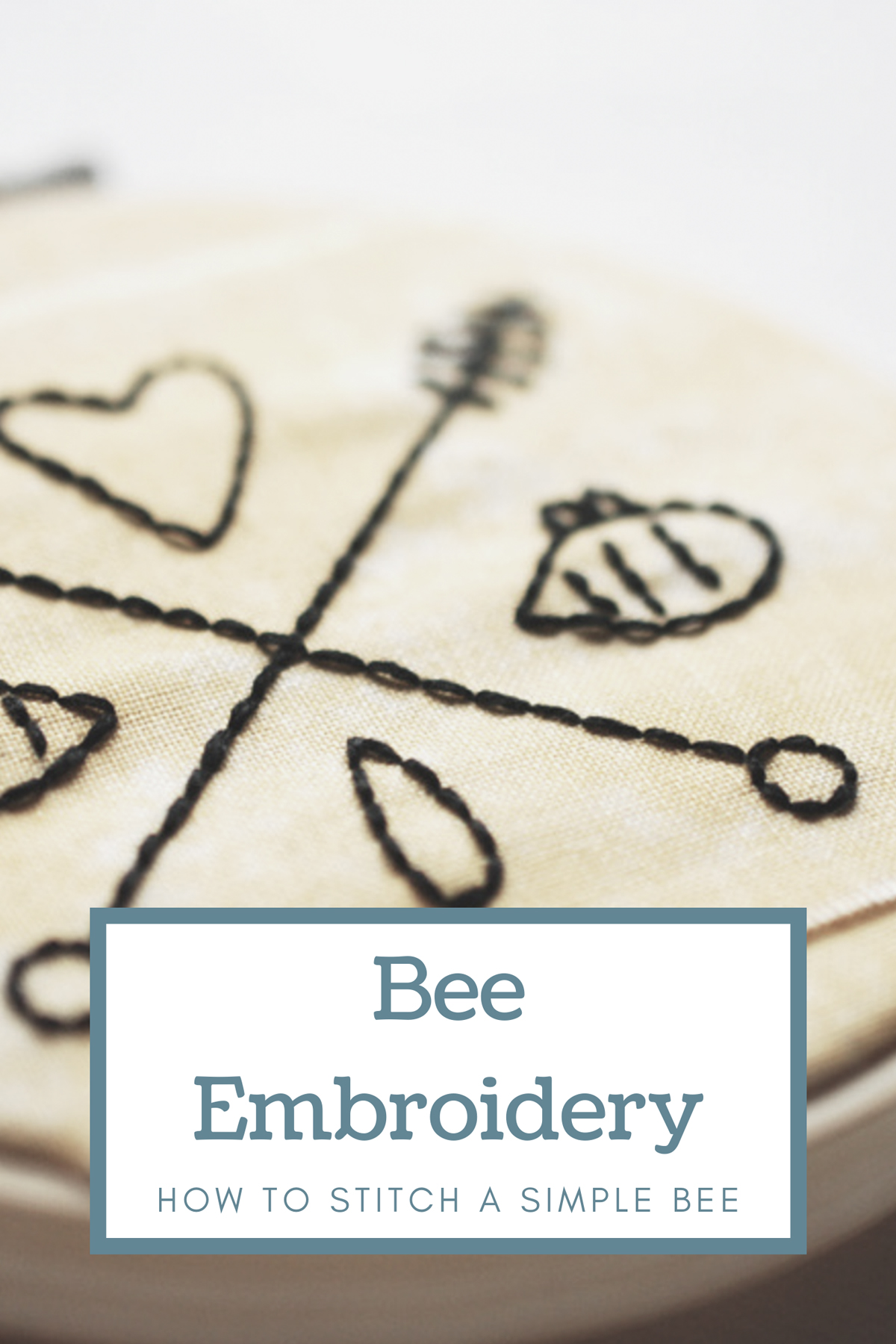 Challenging Bee Embroidery Patterns
Are you up for a challenge? It's time for you to take your embroidery skills to another level. Try these patterns and you'll be surprised you actually have it in you!
17. Cutwork Bee: If you enjoy stitching, this pattern idea may appeal to you as it does involve stitching the bee as well as cutting it. It goes beyond the traditional embroidery design and it will appear delightful once the pattern is cut.
18. The Bumblebee: This pattern is for lovers of intricate designs and someone who enjoys making their own patterns. This is a time-consuming pattern but the results are ecstatic. It's not for the faint of heart!
19. Bee inside the Flower – This pattern involves a bee and flower of your choice. I personally like the wreath design and adding up some small yellow flowers on it to match with the color of the bee.
20. Honeycomb and Bees: This variation of the honeycomb has a thicker border and the bees are distributed on the design. You have the freedom to position the bees to your preference. You can also do it on fabric with another yellow shade for it to look more like a honeycomb.