Mushroom embroidery is all the rage these days and it's easy to see why! These patterns are just the right amount of cute and kitsch without being too over the top. There are also so many different mushroom varieties out there. You'll never get bored with all of the options available!
Learning how to do mushroom embroidery is easy if you stick with it. Embroidery is an enjoyable and inexpensive hobby that you can do at any time of year. Each of these mushroom embroidery patterns are easy to follow and complete. Whether you're new to embroidery or are a seasoned expert, mushroom embroidery is a fun way to be creative.
You can use these patterns to decorate hats, t-shirts, children's clothing and more. You can also frame your creation and hang it on your wall! Whether you're looking for a unique homemade gift idea, or you want to keep your designs for yourself, keep reading!
Why You Should Make This Mushroom Embroidery
Embroidery has become one of the trendiest hobbies around in recent years. You probably have memories of seeing your grandmother embroider, or maybe you did it yourself at summer camp as a kid. Well, embroidery is back, baby, and it looks like it's here to stay.
If you're completely new to this type of arts and crafts, embroidery is simply the act of decorating fabric (or any other material you can get a needle through) with different colored thread or yarn. More elaborate embroidery also includes add-ons like beads, sequins, or even small pearls.
Embroidery has been around for centuries (seriously) and it's easy to see why. Not only can you create designs to go on your clothing, you can also frame it and hang it on your wall. Plus, you can also give your work away as a gift!
If you're looking for a new way to craft, embroidery is where it's at.
Benefits of Making a Mushroom Embroidery Pattern
There are so many benefits to this creative hobby, and peace of mind is one of them! The repetitive motion of sewing is a great way to keep your mind occupied. Rather than sitting on your smartphone or in front of your TV, consider taking up embroidery.
Mushrooms in particular are an easy pattern to start with. You can make them as simple or as elaborate as you'd like. You can add other images such as grass, trees, and flowers. You can make your design season-specific by adding things like snow, fall foliage, or springtime blossoms!
Why is Embroidery Important Today?
Embroidery can help you develop many important skills. Your hand-eye coordination and other fine motor skills will improve. Plus, you'll get a boost of creative inspiration every time you take out your needle and thread!
These skills are even more important to develop at a young age, so don't be afraid to encourage the children in your life to take on this artsy practice. In addition to helping them learn, it's a special way to spend time together. And, you'll have something to show for it once you finish your pattern!
Mushroom Embroidery Ideas
Some people call embroidery "painting with thread," and we love that concept! When you start the practice of embroidering, you really do become an artist. You can add effects like gradients, intricate details, or even the trendy puffy effect.
Most, if not all, of the patterns and ideas below will give you enough creative freedom to do your own thing. Beginners, they also include enough direction for you to follow along!
If you can, take a walk through the woods to find a patch of fungi before you get started to get inspired!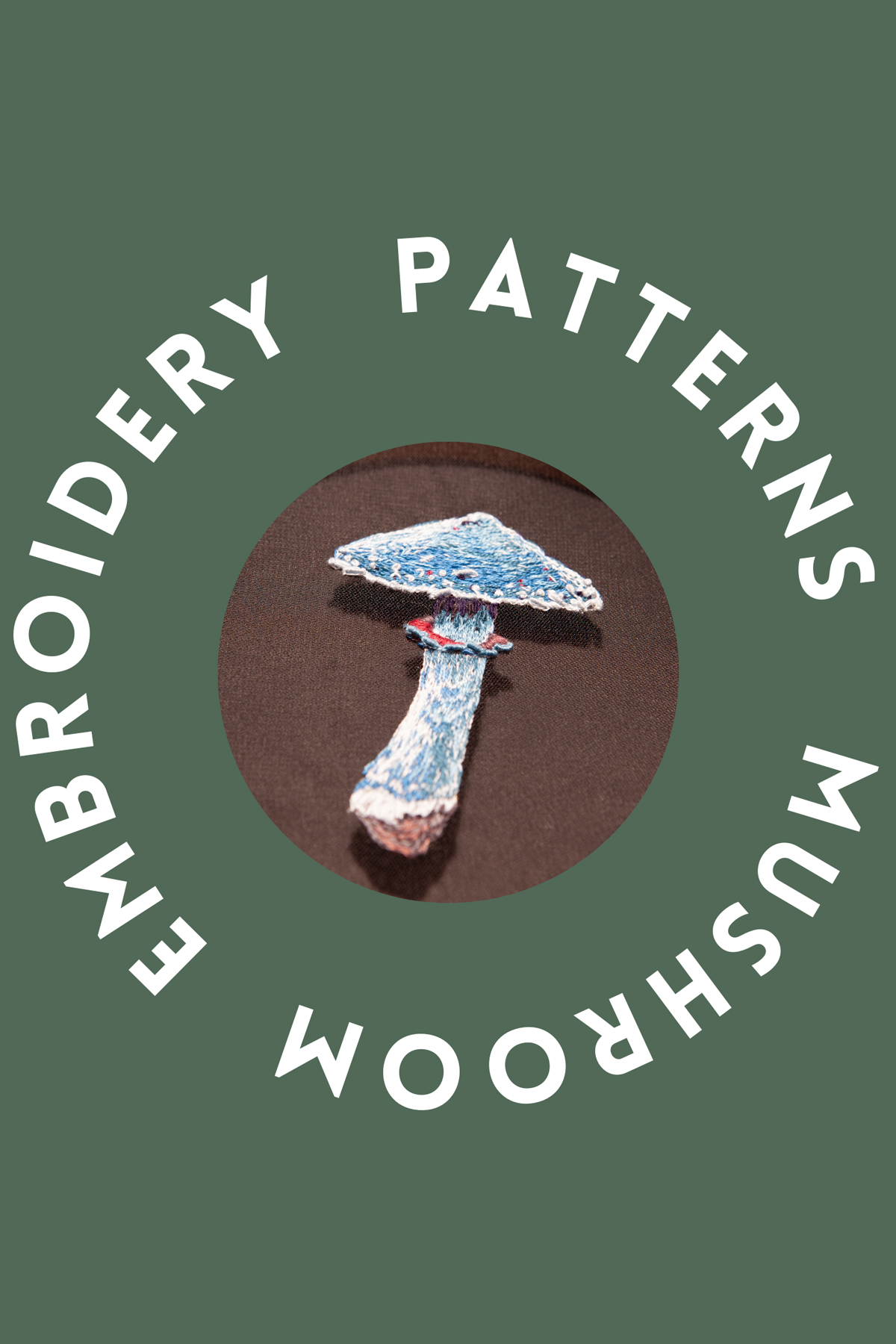 Mushroom Embroidery Patterns
These mushroom embroidery patterns are fun to make! They'll make a great addition to your embroidery collection. To get started you'll need a hoop to stretch out your fabric over. You can work on a standalone piece of fabric or on a piece of clothing. Then, you'll need your needle and different colored threads. Each pattern calls for different materials, so make sure you read the instructions carefully before you get started!
Mushroom Embroidery Kits
You'll find all of the materials you need in these mushroom embroidery kits. If you don't want to have to worry about running out to the store to pick up your supplies separately, a kit is a great option. In a typical kit you can expect to find a hoop, a small piece of fabric, one or two needles, and a few packs of thread. If you want to work on a piece of clothing, feel free to ditch the piece of sample fabric. Kits make for great gifts too.
Mushroom Embroidery Design Ideas
These out-of-the-ordinary mushroom embroidery designs are unique and sure to impress. Most of the design ideas below are for more advanced crafters, but beginners shouldn't be intimidated! If you're feeling stuck, don't hesitate to look for tutorials online. Sometimes watching someone else work the pattern before can give you the confidence you need to move forward!
More Pattern Ideas You'll Love
Holiday embroidery – Add something special to your holiday decor this year with hand embroidery! And, when you've got a little extra time on your hand in between festivities, holiday-themed patterns make for a relaxing activity. No matter what holiday you're celebrating, take some time to yourself and get crafty. Plus, if you have artistic children, this is an activity they can totally get in on!
Embroidered gifts – Handmade embroidery makes for a great gift! Your loved ones will adore receiving something that you made yourself. Homemade gifts are unique, a pleasure to do, and can make a real impact! We've got embroidery gift ideas for special occasions and holidays ready for you to peruse. And, if you're strapped for time, check out our shop for some of our own finished products. 
Floral embroidery – Some of the best embroideries feature flowers. You can go in so many different directions with floral patterns. There are several different ways to stitch flowers, so you're bound to find a pattern that you like. Consider making your designs on a t-shirt, pillow cover, or even on a pair of socks! Between multicolored blooms and monotone meadows, there's no shortage of ways to be inspired.