Inside: Landscape embroidery designs to recreate your favorite view.
Embroidery is a timeless art form. Many people actually refer to it as painting with thread. One of my absolute favorite things to see embroidered is nature. There are so many natural things you can embroider; flowers, trees, the ocean. But my favorite of all hands down has to be landscapes.
I know what you are thinking, but landscapes sound so boring! But they really aren't Especially when you are embroidering. Landscapes can hold such amazing detail and beauty that you will be absolutely shocked by what you see. If you aren't convinced, I promise you that by the end of this article you will be.
I have compiled a list of over 40 of the most breathtaking embroidered landscapes that the internet had to offer. There are many different ways you can embroider landscapes, but my absolute favorite ones are with different perspectives. I included one down below that is of a sky view, like you are in a plane looking down. You would be surprised by how realistic it is.
It's weird when you are that high up, looking down everything just looks like squares of varying shades of green. So I suppose it may be easy to make a realistic version of that with embroidery. But still, it's absolutely amazing.
I've added it to my list of embroidery ideas that I want to work on in the future!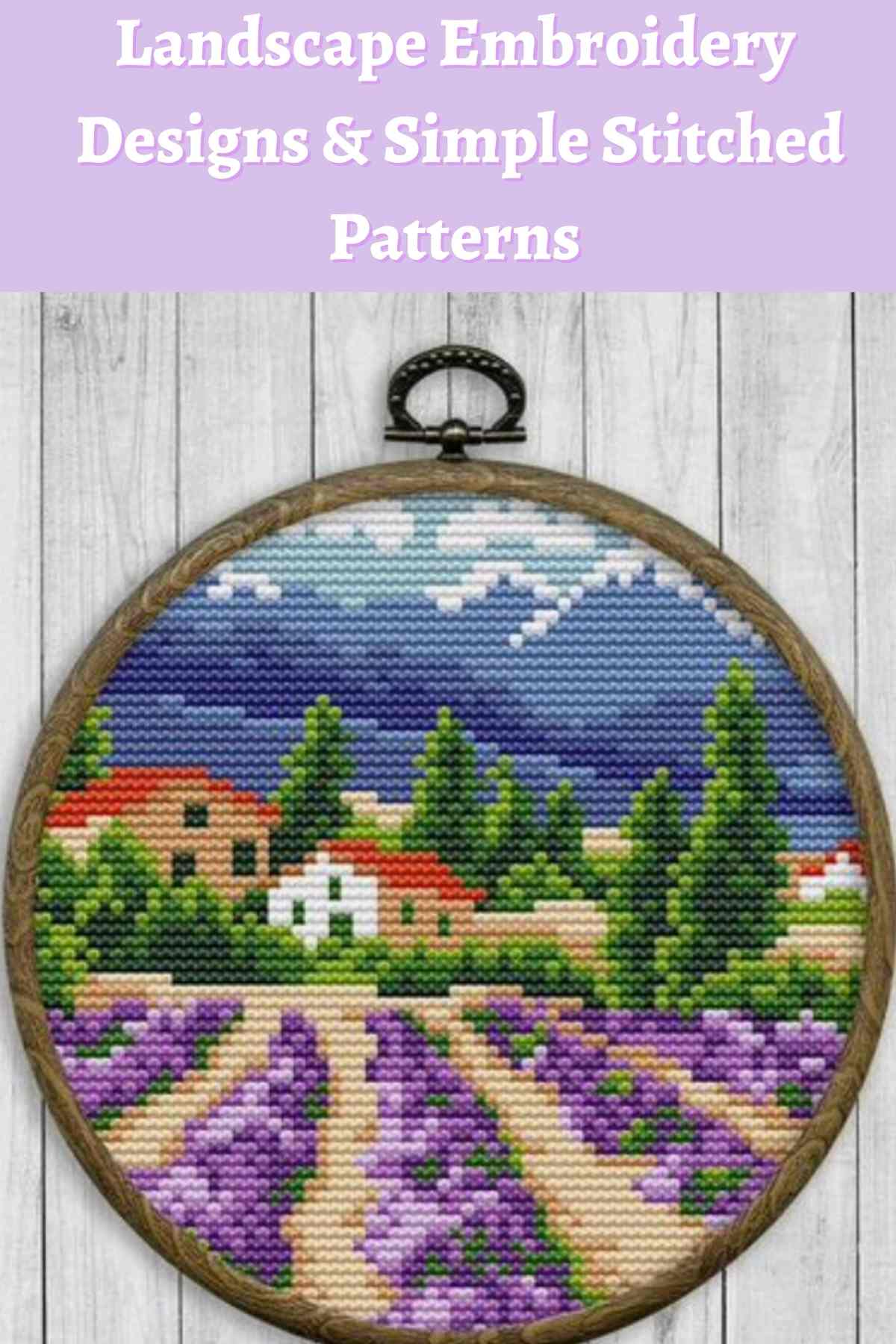 Most of the embroidery that you work on typically doesn't take up the entire canvas. So this one may feel a bit more daunting if you are thinking of taking it on. But don't worry!
Embroidery is all about taking your time to be in the moment with your craft, so dedicating your time to this is a great way to improve your embroidery!
Did you know that embroidery is actually good for you?
Yep…if it wasn't already great enough. It comes with lots of benefits for your mental health and your body. Let's go over it!
Benefits of Embroidery
Embroidery has been proven to boost your mental health. Adding this craft to your life can have some amazing effects such as:
Reduce your anxiety
Decrease your heart rate and lower your blood pressure.
Build your confidence. Learning new skills is an awesome way to build confidence. 
Works out your eyes, which keeps them sharp.
It's an exercise in mindfulness, which has been proven to lower depression and improve overall mood
There are many others that I haven't included, these are just the main ones. So next time you choose to embroider over going to the gym, remember that you are still doing something that is good for you!
Without further ado, let's jump into these Landscape Embroidery Designs.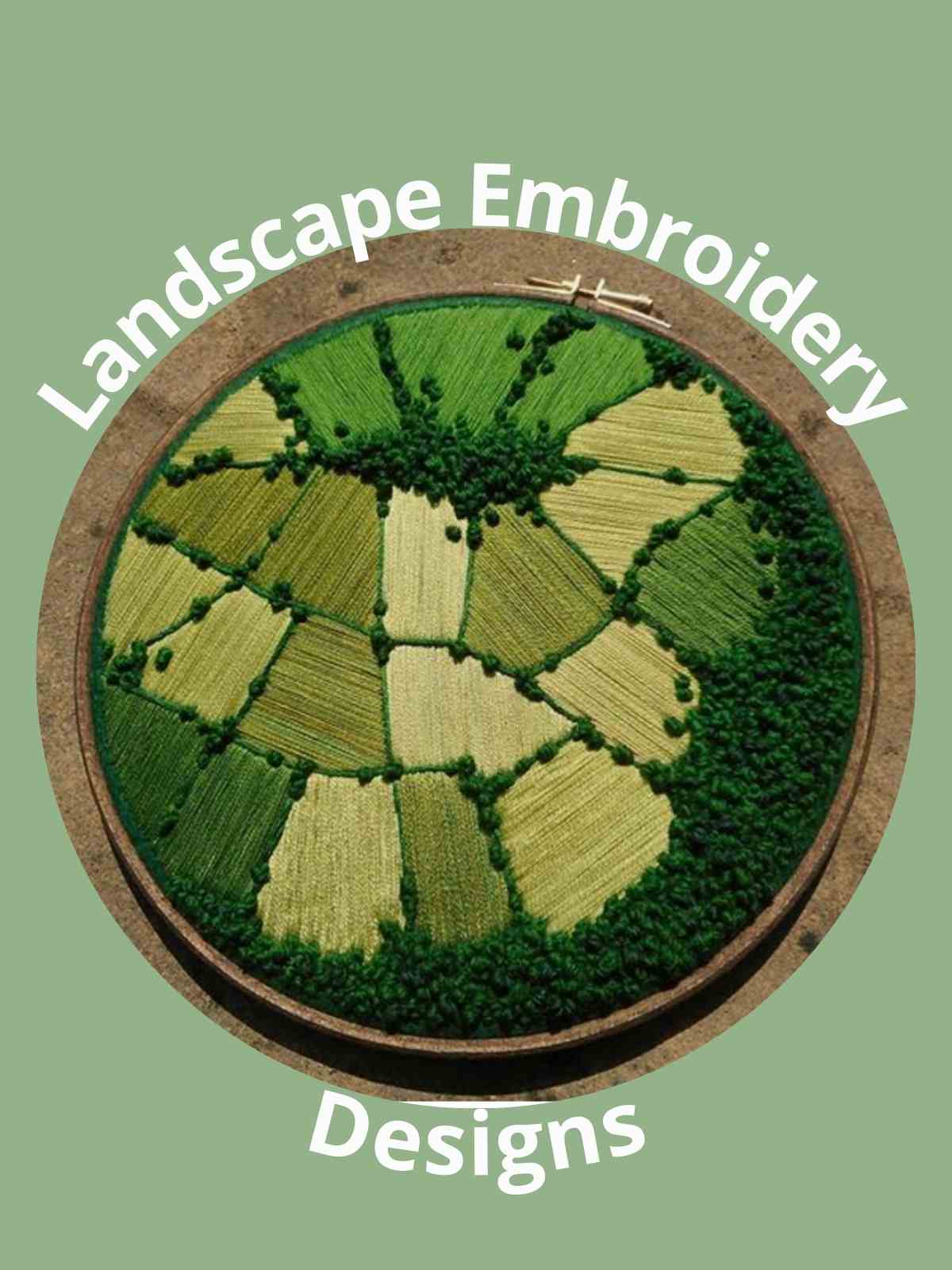 Landscape Embroidery Designs
This first list has a perfect combination of embroidery styles and landscapes for you to get a good idea of what it is you are going to want to create for your own project. If you find yourself falling in love with more than one, don't worry! Just add them all to your embroidery to-do list. There is plenty of time to do them all! So take a look and write down whatever makes your heart happy.
Pro Embroiderer Tip: Keep your own embroidery journal
This way you have a dedicated book of ideas and tips for your favorite styles!
1. Beautiful Mountain Scape with a Fence
8. Sea View with Cherry Blossoms
10. Freehand Desert
11. Ocean Shore
Landscape Embroidery Patterns
I've found that when I am taking on a large embroidery project, it helps to listen to a long audio book while I work. For me, mystery novels really make the time go by quicker than anything. This works better than TV or Movies because embroidery is something that you really have to pay attention to.
This is why an audio book is perfect! I can be immersed in my craft and the book at the same time! Podcasts are great for this too. They even have embroidery-themed podcasts out there, so it's a double whamming. So before you get started, pick one out.
It really helps to set the scene.
12. Mini Meadow
14. 3D Forest
18. Desert at Night
19. Cute Desert PDF
21. Canoe at Sunset
22. Lighthouse
23. Lakehouse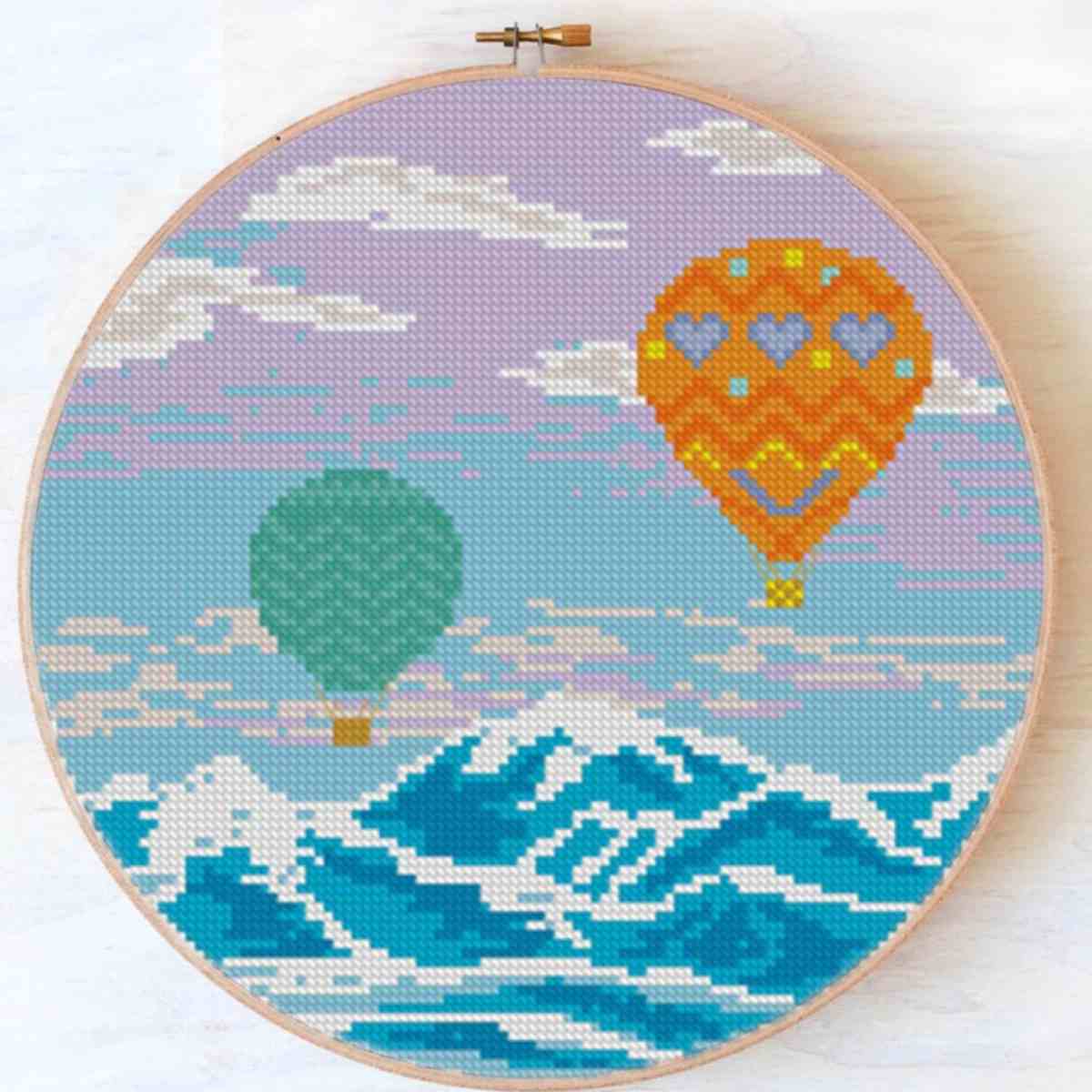 Simple Landscape Embroidery
Embroidery doesn't need to be intricate to be good. Some of the best work I've seen and done has been on the simple end of the intensity spectrum. I love the number 26, but I am an absolute sucker for cloud embroidery so what can I say. The rest of these on this list are right up there with this example though.
They are all simple but beautiful because isn't that the best way to describe our natural world? Take a look.
25. Mountains
28. Simple Mountains
29. Cute Water with Lighthouse
34. Geometric Mountain Landscape
Stitched Landscapes
If you haven't had your breath taken away yet, then you better get your inhaler ready…because this last list is just out of this world. Well technically it is very much in this world seeing as they are landscape designs, but you know what I mean. The Hot Air Balloons in number 39 really got me excited to start my next project.
I find that the more excited you are, the better the end result. So take a look at these and feel the excitement!
35. Winter Landscape Cross Stitch
37. Lavender Fields
38. Tree Silhouettes
39. Hot Air Balloons
42. Ocean
More Ideas You'll Love
23 Lovely Lavender Embroidery Ideas – If you loved the naturalistic feel of these landscape embroidery Ideas then you are going to go crazy for these Lavender Designs. Lavender is one of the most popular flowers in the world. They smell great, they help you sleep, AND their unique look is both impressive and beautiful. Did you know that they get such a strong scent because they are a part of the mint family? Who knew right? Check these out.
43+ Flower Embroidery Designs – Flowers are some of my absolute favorite things to embroider. There are so many varieties that you could spend your whole life embroidering them and still not hit a wall. Flowers also have their own symbolism and meaning that just add to the whole overall depth of your work. Interested in embroidering some flowers? Check out these designs right now.
17 Beautiful Dragonfly Embroidery Patterns –  Have you ever seen a Dragonfly in the air? They are truly magical creatures. Every time I see them I am just filled with this childlike feeling of wonder, it's amazing. I wanted to honor that feeling by incorporating it into my embroidery. So take a look at these 17 Beautiful Dragonfly Patterns that will fill you with whimsy.