Florals are making a comeback with these lavender embroidery pattern ideas! But, in all honesty, did they ever go away?! What better way to get in the mood for warmer weather (or remind yourself of it on a cold winter's night) than creating a lovely lavender embroidery design? 
Spring has sprung…on your embroidery hoop! Lavender embroidery patterns are a great way to welcome warmer weather and the pretty flowers that come along with it. Lavender flowers range from deep violet hues to pastel purples to silvery and gray tones. In embroidery, the more color choice —the better! While lavender can represent the return of spring, you can sew these designs all year long.
There are so many different ways to represent these florals through thread. As usual, don't be afraid to get creative with your designs! Plus, flowers require different types of stitches, and lavender is a great way to practice. Below you'll find our reasons to make these patterns and a bunch of ideas to help you get started.
Why You Should Make These Lavender Embroidery Pattern Ideas
Whether you're looking to add a little something extra to a piece of clothing, decorate something for your home, or create a gift from scratch, lavender embroidery is always a good idea!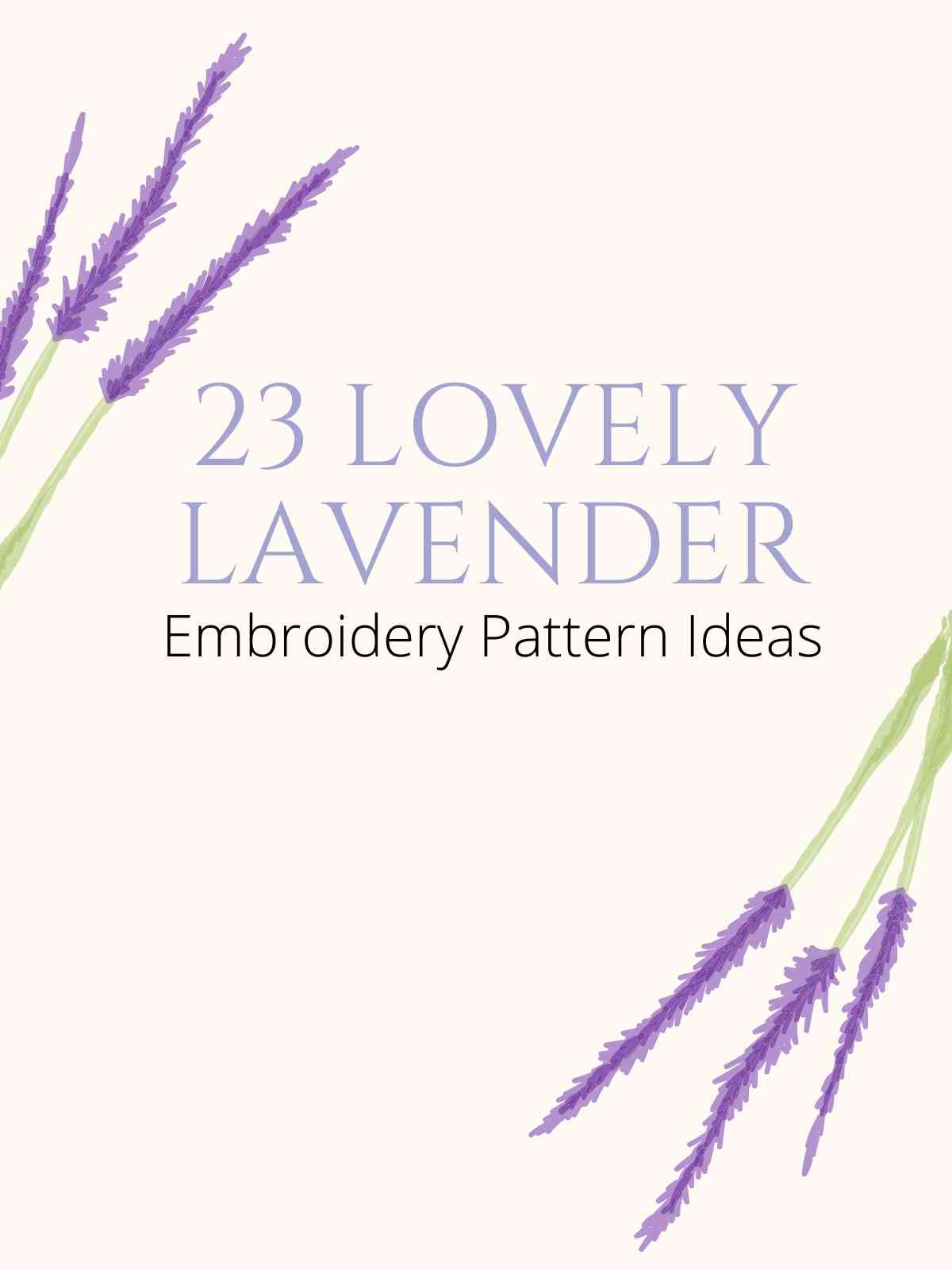 Lavender flowers are not only gorgeous, but they represent many different things and have many uses. Lavender is actually technically an herb, not a flower. You can use it in your kitchen, or place them with other flowers as a decoration in a bouquet. Lavender symbolizes calm, serenity, devotion, and grace. Its odor can even help you sleep, as well as repel insects. Put some under your pillow to soothe you – and beat the bugs.
The lavender (or flower) lovers in your life will be so happy to open a handmade gift. Below you'll find some of our favorite lavender embroidery gift ideas. You can also use the list as inspiration for something to make for yourself. Promise, we won't tell!
Lavender Embroidery: Gift Ideas
Is there anything better than receiving a handmade gift? There is just so much thought and extra effort that goes into giving something that you've made yourself. We personally love to give AND receive homemade presents! That's half the beauty of getting into a craft like embroidery – sharing your creations with others.
Most of these projects will require a bit of time to prepare and make, so we recommend that you give yourself at least a few weeks to complete them. Faster sewers may be able to finish faster, but it's always nice to give yourself a bit of leeway.
Clothing
Add a little something special to any piece of clothing for a unique homemade gift idea. We love the idea of stitching a cluster of lavender blooms on the pocket of a t-shirt, or around the buttons on a blouse. A bunch of lavender on the back of a pair of jeans would really make a splash too.
You can get really creative here. Will you use new clothing, or will you jazz up a cool thrifted t-shirt? So many choices!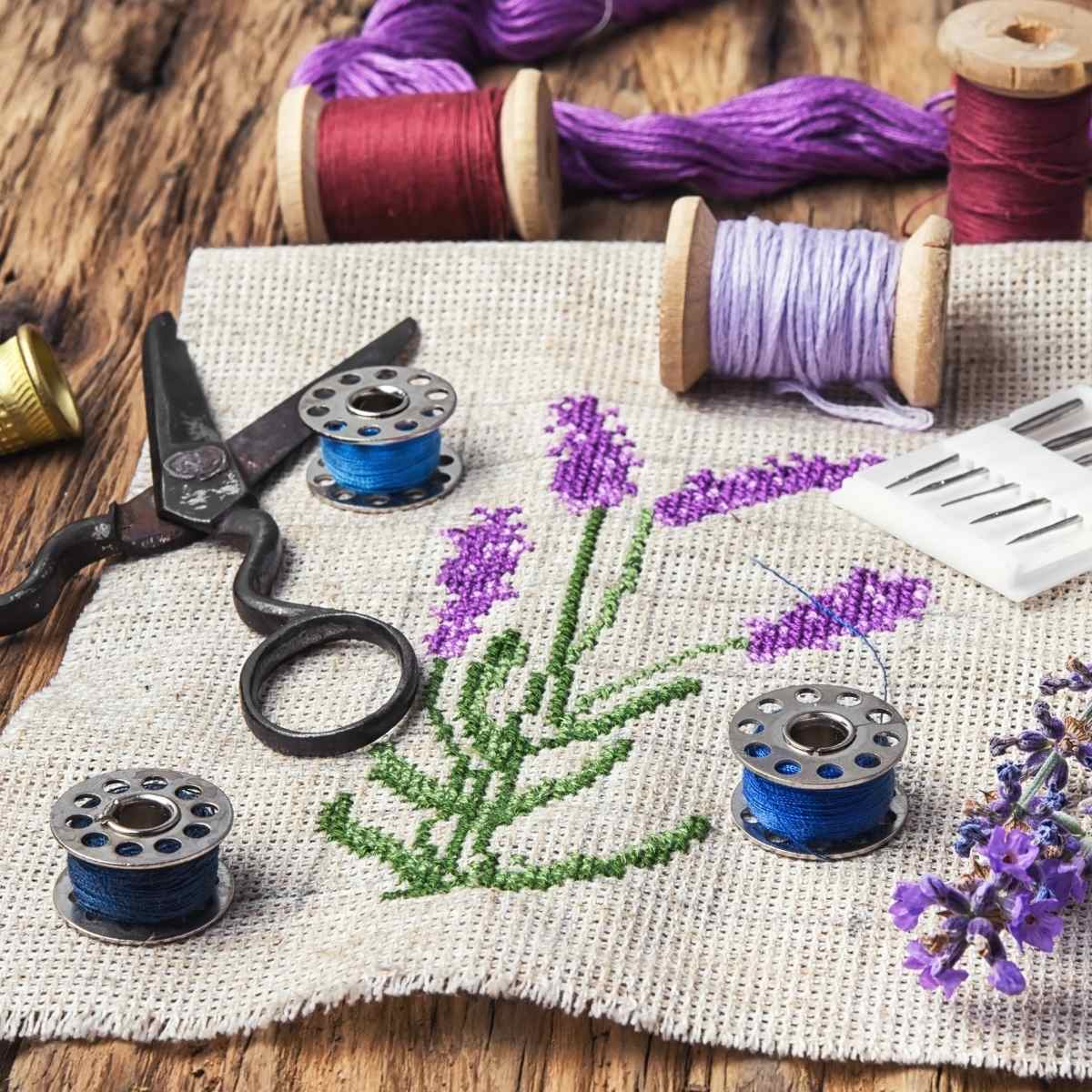 Homewares
This is another area where you can get really creative. You can embroider any piece of fabric if you try hard enough. That means you could use one of the lavender embroidery patterns on this list for a homeware gift! Napkins, curtains, table cloths, kitchen rags, pillows, and blankets are all up for grabs, to name a few.
We also love the idea of framed embroidery for a baby's nursery, which helps us segue into our next gift idea!
Artwork
You can turn embroidery into artwork! We'd like to argue that any type of embroidery, no matter where it is, is a form of art. You get the idea! Turn one of the stunning embroidery patterns below into a cute decoration by placing it in a picture frame. You could alternatively leave your design into the wooden embroidery hoop that you sew them in. These hoops make for great wall hangings.
Lavender Embroidery Pattern Ideas
Now that you've got plenty of ideas of what to do with your lavender designs, let's talk patterns. There are plenty of different types of lavender embroidery pattern ideas floating around on the internet these days.
Choose between single sprigs and large bundles of these delicate flowers tied together with a ribbon. You may prefer to place other types of flora alongside them, for a fun wildflower look! We also love the lavender wreaths we discovered. Keep your eye out for our ultimate favorite – a lavender wreath with some buzzing bees.
Lavender Embroidery Patterns
Choose between lavender designs for beginners or embroidery experts. Here you'll find a unique assortment of lavender patterns, including a creepy-yet-cool skeleton hand.
Lavender Embroidery Inspiration
Get inspired by the lavender embroidery designs below.
Hand Embroidery Designs with Lavender
The beauty of hand embroidery is that you can pick it up wherever, whenever!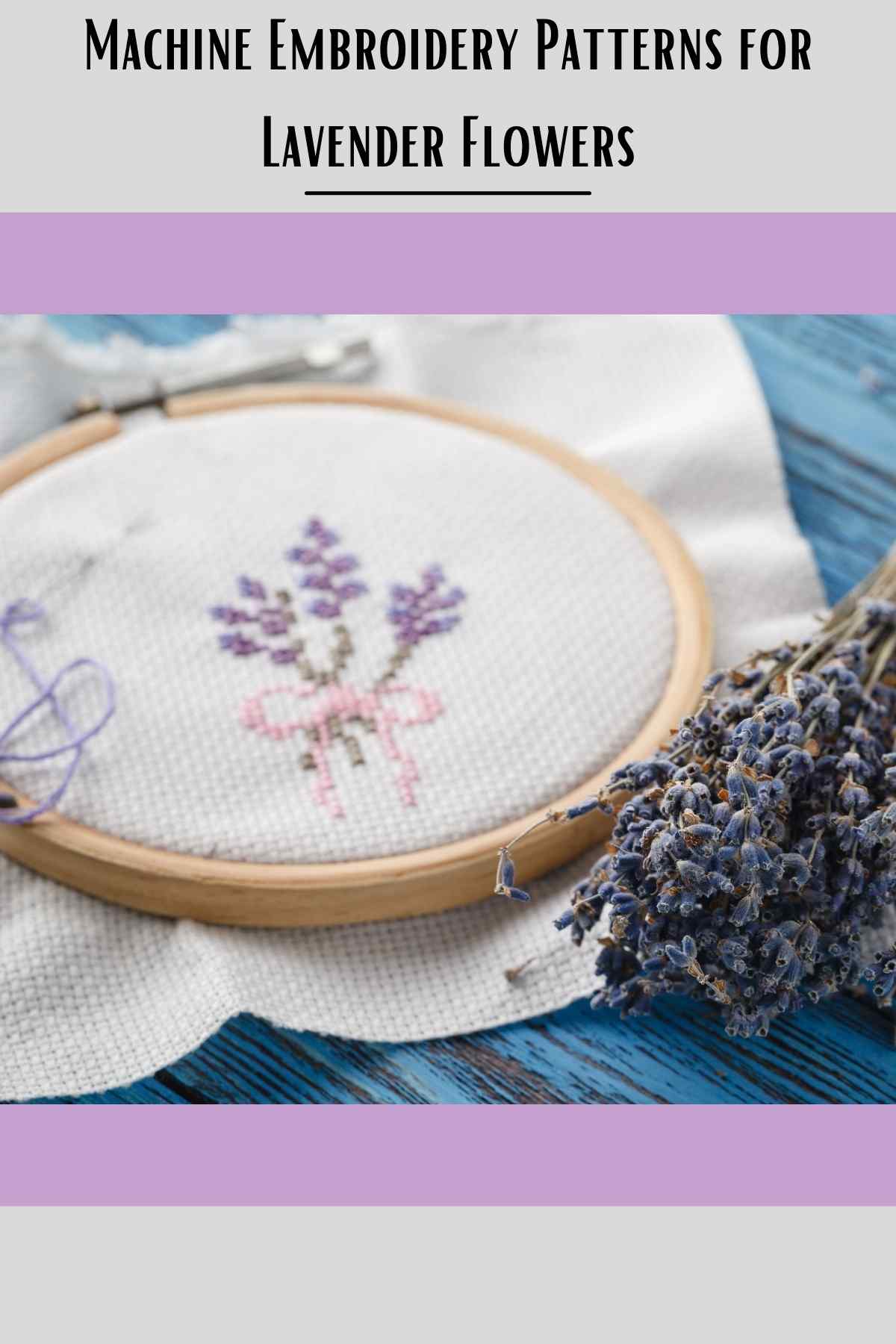 Machine Embroidery Patterns for Lavender Flowers
You'll need a special machine to make machine embroidery, so make sure to double-check what you have at home before you get started.
More Pattern Ideas You'll Love
21 DIY Bee Embroidery Patterns – If you enjoyed these lovely lavender embroidery designs, you'll get a kick out of this list of bee embroidery patterns! Flora and fauna are some of our favorite things to stitch and we're sure you'll agree. How cute is a buzzing bumblebee on a handkerchief, dishtowel, or even on a t-shirt?! We also think a framed embroidered bumblebee would make for a great nursery gift for the newborn in your life!
30 Mushroom Embroidery Patterns – Following the same theme are these mushroom embroidery patterns! Choose between trendy toadstools, funky fungi, and woodland scenes with other cute creatures. We recommend going for a stroll through the forest for extra inspiration. Will you stitch a summer meadow scene or an autumnal design filled with fallen leaves?
27 Sunflower Embroidery Patterns – Bring a little sunshine to your life with a sunflower embroidery design! This popular embroidery subject symbolizes happiness and can be made with bright, summer tones, or earthy, autumnal hues. Stitch sunflowers on home goods, clothing, or frame your fabric and hang it on the wall. This list features designs for beginners or for more advanced embroiderers. Add a touch of sunshine to your home – or your look!