Inside: Bead Embroidery Patterns + Tips
Did you know that there are thousands of different kinds of embroidery? Now you may be thinking, "How the heck is that possible?" I totally get that. But if you think about it, embroidery has been around for centuries.
It's a popular form of creative expression in many different cultures around the globe. As time went on, the styles that were created by these cultures were built upon by new generations.
Now, hundreds of years later we have so many embroidery patterns and styles at our fingertips it's truly insane. Thank you internet!
Though there are SO many various types and styles of embroidery, one will always have a special place in my heart. And that is Bead Embroidery! This style of beading is a wonderful way to add some sparkle and texture to your crafts, and I love it.
If you have no clue what I'm talking about, let me explain.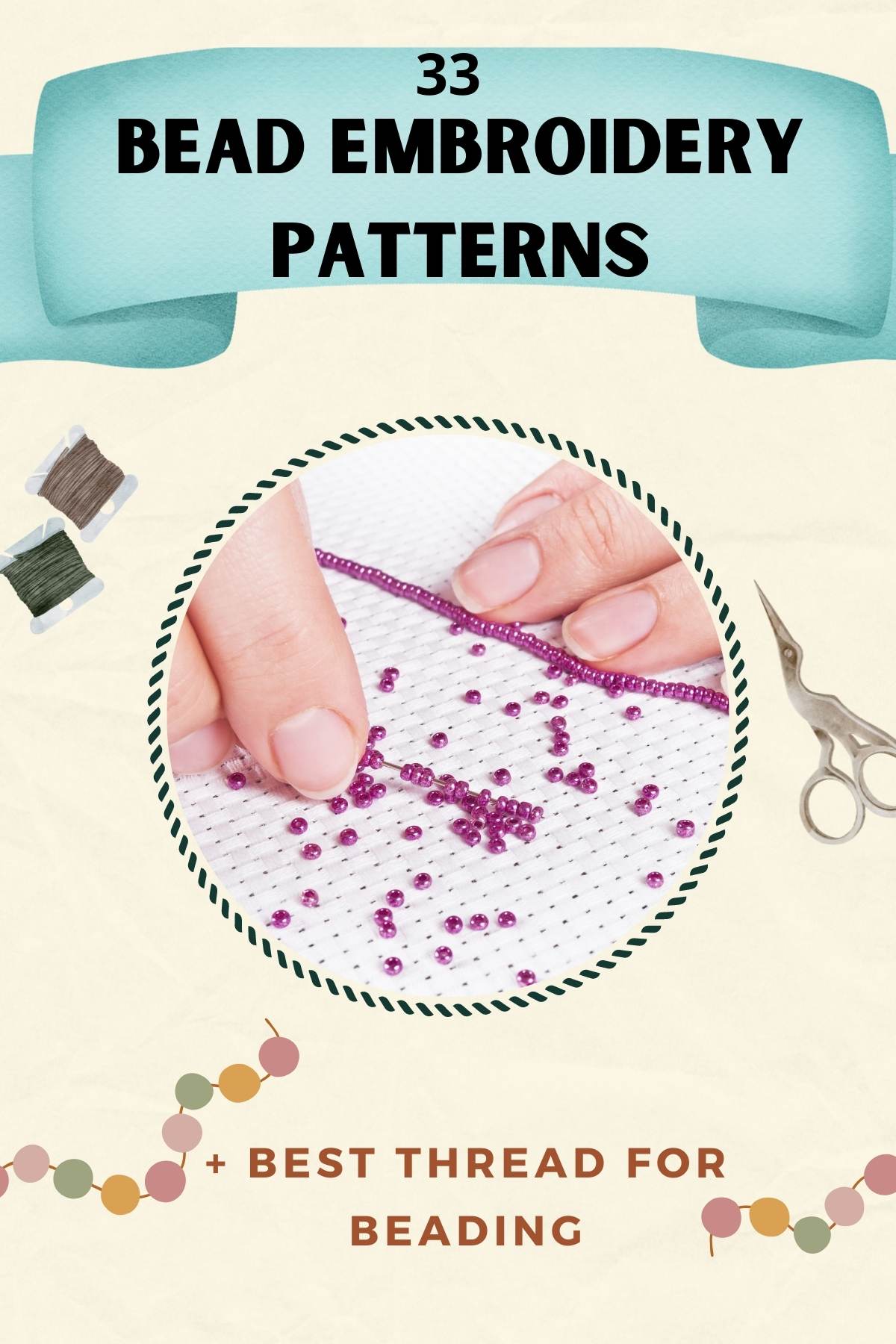 What is Bead Embroidery
Bead embroidery is a style of thread art that involves sewing various kinds of beads to fabric or cloth. It's a very simple technique that can be picked up by any beginner embroiderer! It's amazing too because of its ability to be used as an expression of the self. You're basically painting with beads!
This craft was started in the late 19th century and was worn primarily by kings and nobles as a way to decorate their cloths. Beadwork was very expensive because of the use of fancy gemstone beads that would be used in these art pieces!
Nowadays though, you can achieve this style and not break the bank. Let's discuss beads.
Embroidery Beads
Many different kinds of beads can be used for this type of embroidery. When it comes to your own craft this is entirely up to you and your design needs.
You can use tiny seed beads, Larger ones, or a mix of both! You can even be like the kings and noblemen if you so desire and use fancy gemstones.
It's your choice.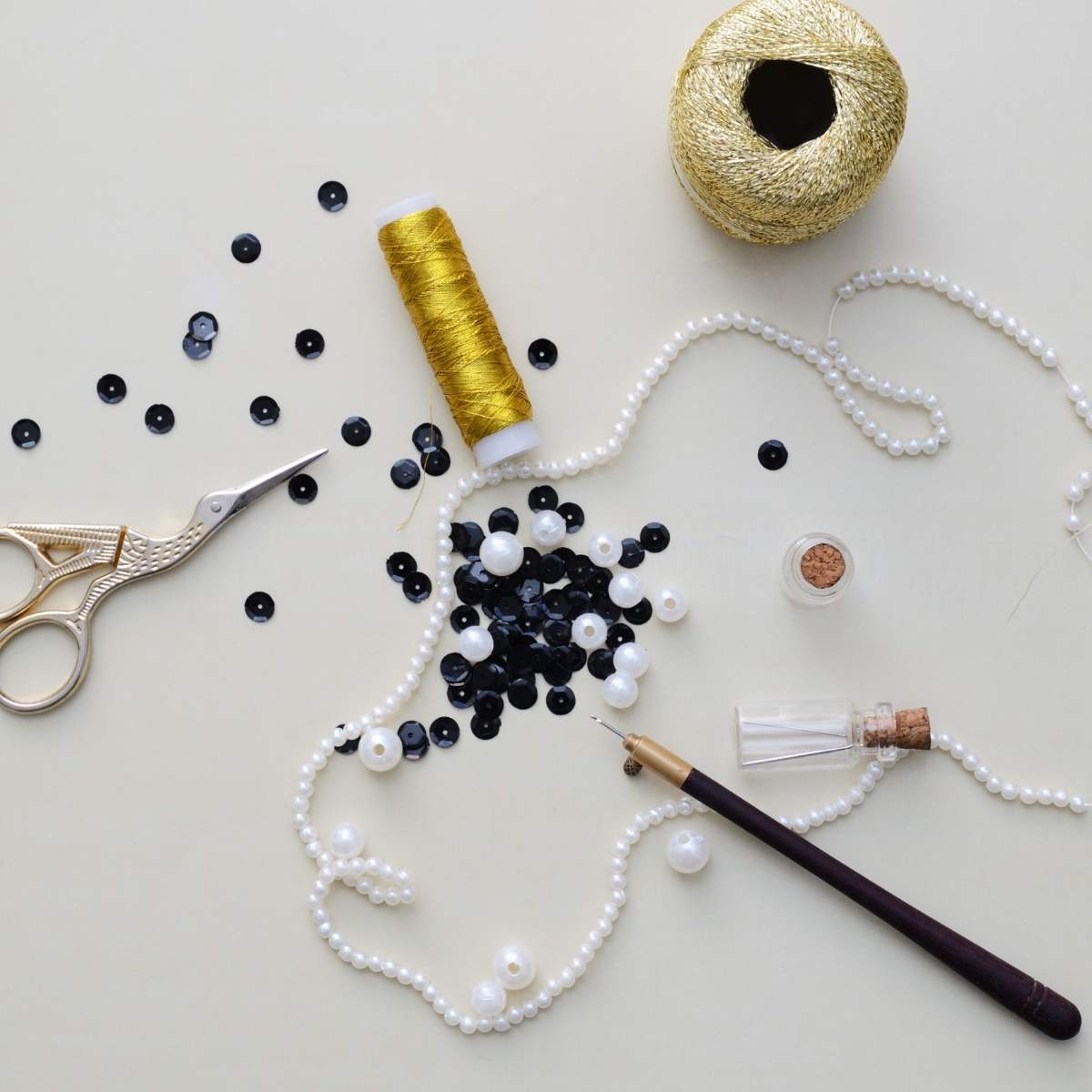 Thread for Bead Embroidery
It may be of no surprise to you to hear that the thread needed for bead embroidery is….drum roll please…beading thread!
There are two kinds of beading thread that are the most popular, and those are nylon beading thread and gel-spun or fishing line-type thread. These are sworn by by many skilled beaders based on their strength, softness, and ability to go through fabric without leaving large holes behind. The more you know right!
How Bead Embroidery Is Made
To start, you'll need: regular embroidery needles, beads, beading thread, and some fabric to work on, the stiffer the better.
Then you can choose your design. If you're having trouble and need some inspiration, I've created a list below of some of the best bead embroidery patterns for you to take a look at. See below. After you've chosen, sketch it onto your fabric.
Next you get to choose what beads you'll need for your design. This is really up to you, you have so many to choose from! Theres seed beads, glass beads, pearls….you name it! Use your creative head for this one.
After this you can get beading! There are too many different techniques to be able to write about in this one article, so I'll just explain one of the most popular stitches.
Beaded Back-Stitch
1. Bring your need & thread up through the back of the fabric.
2. String 3 beads through the needle.
3. Then starting from the side of the last bead strung, string the needle through the other direction, coming up after going through 2 of the 3 beads.
4. Then taking the needle back to the end of the beads where we started, string the needle through only the last bead. This will secure it to place.
After doing that you can repeat this, going around your design with various kinds of beads until you're finished. Hoorah!
Here are some awesome embroidery designs for you to take a look through to help you get some inspiration for your own beaded embroidery project. Take a look!
Bead embroidery patterns
5. Pisces Fish
10. Red Beta Fish
11. Snowflakes
15. Floral Heart
19. Purple Mandala
Cute Bead Embroidery Ideas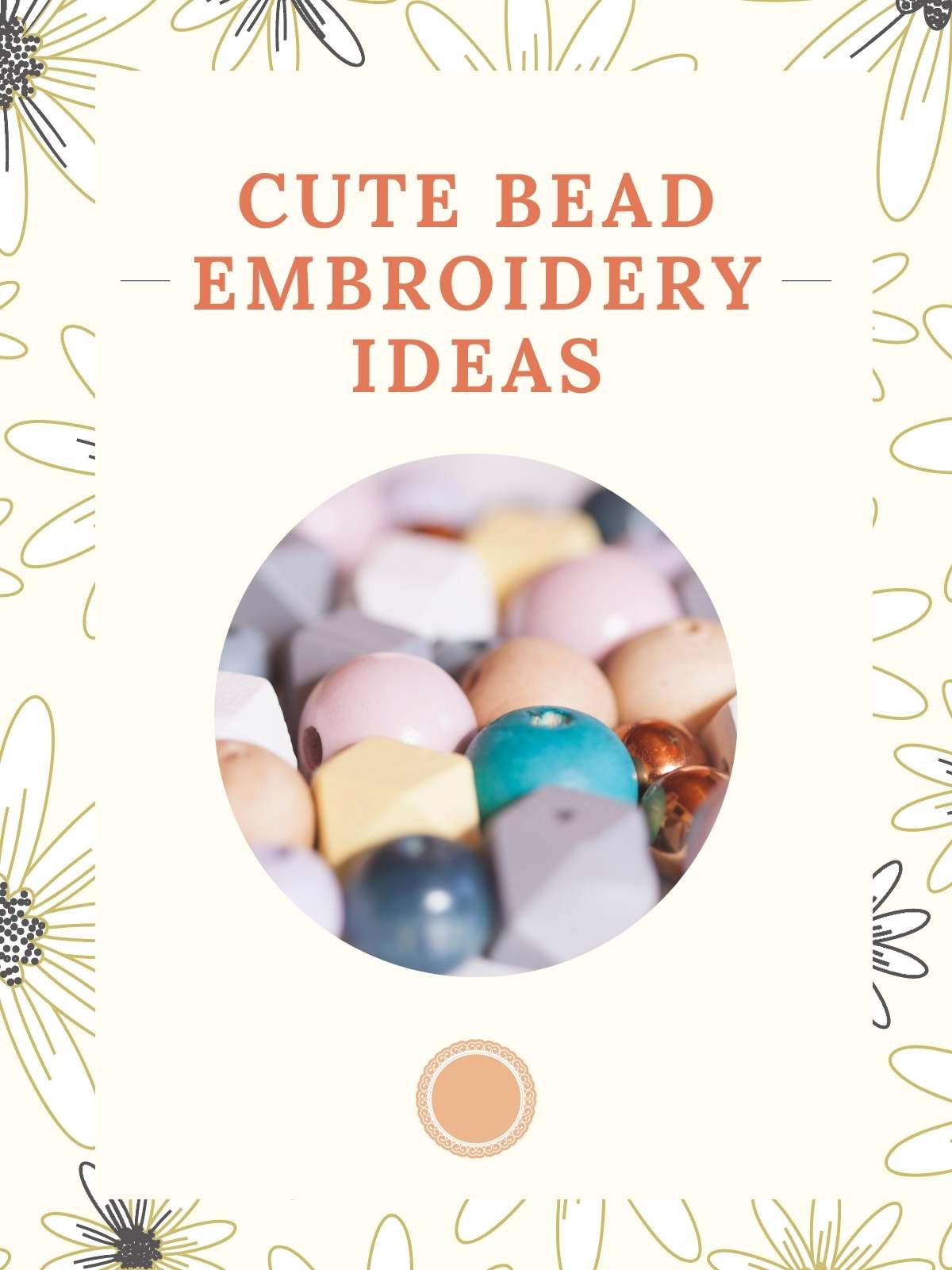 20. Unicorn Pattern
23. Simple Pattern
27. Cute Fox
28. Whale in the Sky
31. Shooting Stars
32. Moon & Stars
33. Hamas Hand
And that's beaded embroidery in a nutshell! I hope you loved learning a bit about this awesome style as well as found some inspiration for your next crafting session. Happy Embroidering!
More Embroidery Ideas You'll Love!
15+ 3D Puff Embroidery Ideas – The most common place you'll find 3D puff embroidery is on sports jerseys, backpacks, and baseball caps. But, that's not the only place! You'll also find this type of stitch on blouses, pants, and even home goods. Puff embroidery can also make a plain t-shirt look elegant and stylish. Plus, it looks great on placemats, tablecloths, pillows, and curtains. The possibilities are truly endless! You can also use the ideas below to embroider winter ski hats, sweatshirts, and decorative wall hangings. Consider making your own holiday decorations this year! There are a few festive patterns below that would look great in your home.

30 Mushroom Embroidery Patterns – 

Learning how to do mushroom embroidery is easy if you stick with it. Embroidery is an enjoyable and inexpensive hobby that you can do at any time of year. Each of these mushroom embroidery patterns are easy to follow and complete. Whether you're new to embroidery or are a seasoned expert, mushroom embroidery is a fun way to be creative. 

You can use these patterns to decorate hats, t-shirts, children's clothing and more. You can also frame your creation and hang it on your wall! Whether you're looking for a unique homemade gift idea, or you want to keep your designs for yourself, keep reading!

19+ Enchanting Moon Embroidery Patterns – 

The moon is a perfect inspiration to do embroidery for all selenophiles out there.

Some of the most enchanting moon embroidery patterns include a night sky with mountains, a boy and the crescent moon, a crescent moon with a cat, and moon and falling stars. 

Moon embroidery patterns are not that hard to find once you know where to look. We have compiled a list of 19+ for your stitching pleasure. So grab your hoop, needle, and thread because this is definitely one journey you will want to take again and again!