Inside: 27 Mexican Otomi Embroidery Tapestry Ideas
One of the many reasons I fell in love with embroidery is how universal it is. Today, millions of people use embroidery as a form of creative expression, all over the world! But this isn't a new thing. Lets time travel a bit.
So many different cultures have used embroidery as a creative extension of their heritage, for centuries! According to The History of Embroidery, "Early embroidery can actually be traced back to Cro-Magnon days or 30,000 B.C." What!!!
Embroidery is amazing.
I've made it a goal of mine to learn about as many different cultures that use embroidery as I can. So today we'll be discussing Otomi Embroidery!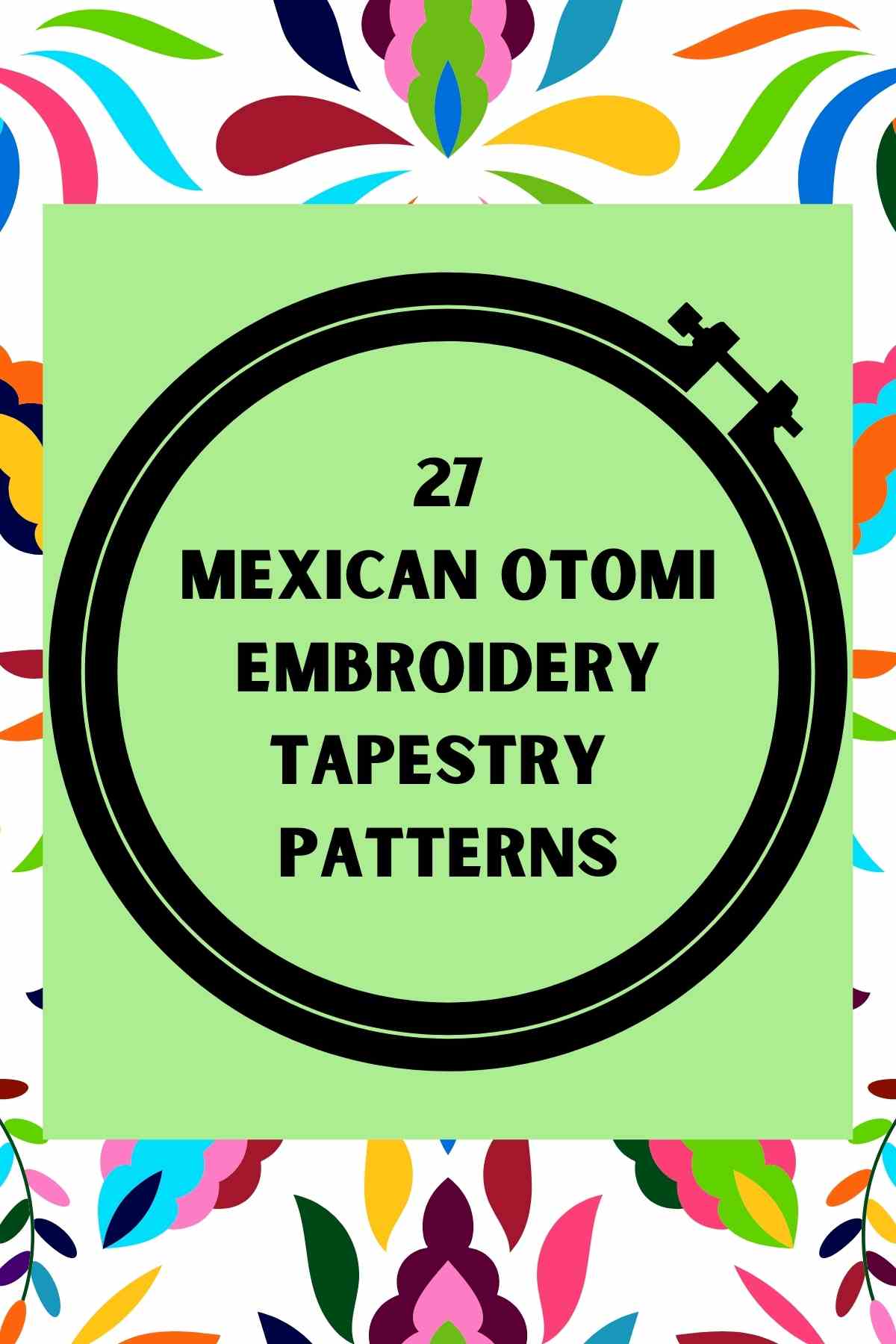 What is Otomi Embroidery?
Great question.
Otomi Embroidery is a style of embroidery created by the Otomi People in Central Mexico. Known for its use of vibrant colors, one cannot help but be captivated by anything graced with this kind of design! The Otomi people have actually been perfecting this style for centuries, and it's popularity is on the rise. There are many different designs that are filled with a bunch of symbols that are near and dear to the Otomi hearts such as; Local Flora, Plants, and animals as well as even cave drawings that were discovered in the region where many of the Otomi people reside.
Each design is like a snowflake, no two are the same. The Otomi embroidery style is an awesome part of their culture and heritage. As an avid lover of embroidery myself, I can't help but be in awe of it. I mean, just one piece can take months or even years to make depending on the size and scale! What! That is dedication.
Not only this, but each unique piece also holds it's own meanings and symbolisms! I'm a sucker for that.
Otomi Symbols & Meanings
Stars: Stars are used to represent the cardinal directions.
Flowers: Flowers are used to represent nature & fertility.
Animals: Animals represent the bringing of important news.
Other varies symbols are also used to represent: Nature, Cerimonies, & Spirits.
How to Achieve the Otomi Embroidery Style
Creating Otomi embroidery is a super fun process!
First you decide how big you want your project to be and then cut your fabric accordingly.
Then you hand sketch your design(you can choose a variety of different things to incorporate like the list of symbols above). If you need some inspiration, dont worry I go your back! I've created a list of different Otomi Patterns below for you to look at.
After your designs are sketched out and finished, next comes the needle and thread! The kind of stitch used for this project is called a 'blind stitch'
Then off it goes to be washed, this gets rid of any extra remnants of your sketch design.
Finally, a hemline is added. You can either do this by hand or with a machine. If desired you can also iron over your work as well.
That's it! Pretty straight forward, so let's get into the list of designs I have below. I put these together for a few reasons. Mainly for you to get some ideas for your own project, but also so that you could spend some time appreciating the awesome embroidery style that is; Otomi Embroidery!
Take a look.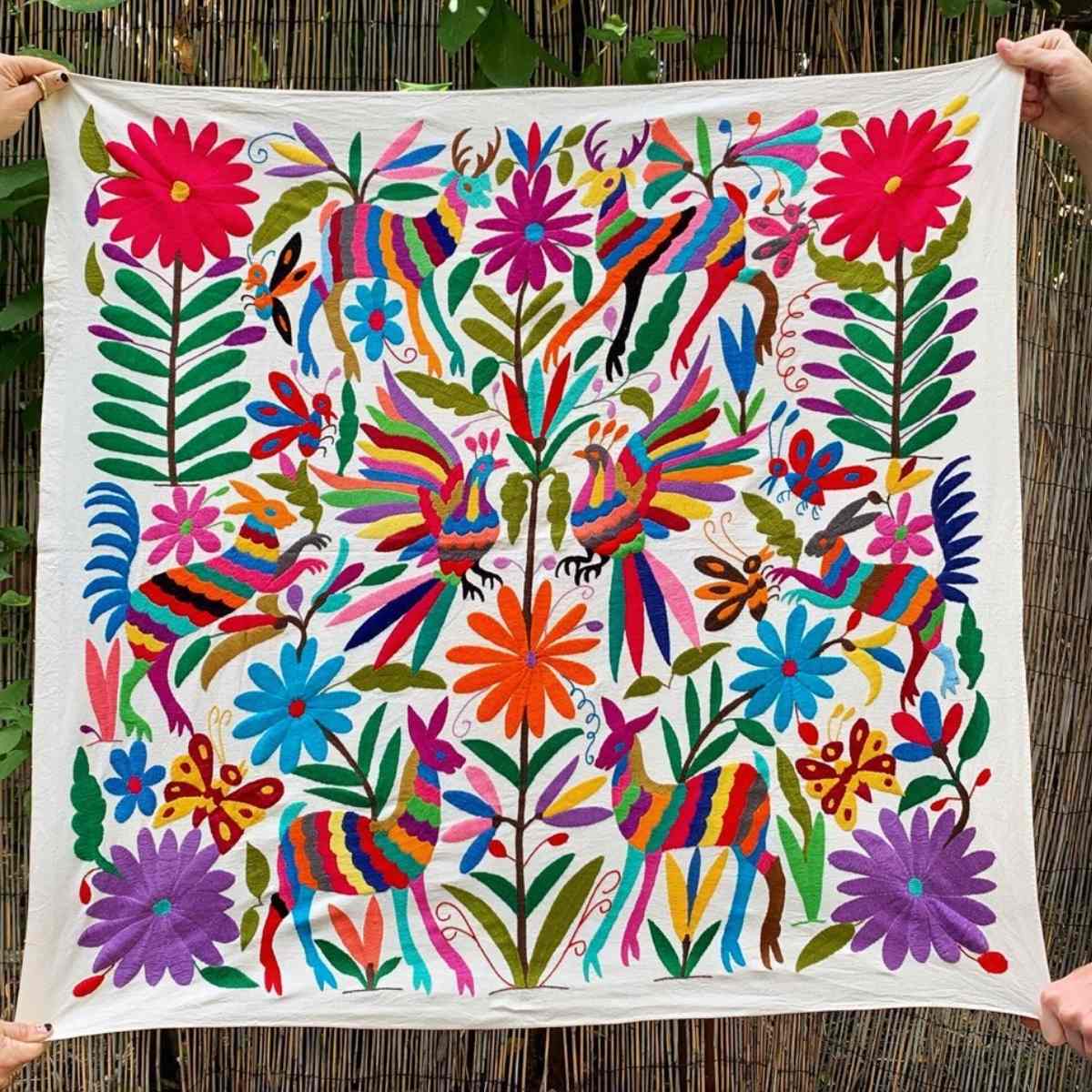 Otomi Embroidery Patterns
Here is a list of embroidery patterns for you to look at. I've included both worked on projects as well as quite a few Otomi Embroidery starter kits as well. These are for if you don't feel like free handing your design, which I totally get! Drawing isn't for everyone, but embroidering can be! These kits are really great too because they include everything you'll need for your piece, from start to finish!
Check them out!
2. Otomi Hoop
8. Cute Donkey
10. Sugar Skull
11. Hummingbird Duo
Otomi Tapestries
Though you can embroider just about any type of fabric, Otomi embroidery is best suited to reside on a large canvas, making it a tapestry! Tapestries are typically put on walls for large decoration. When using an Otomi tapestry in your home, expect to have uplifted moods seeing as the vibrant colors can make anyone happier just by being in their presence!
Here are some of the coolest Otomi Tapestries on the internet!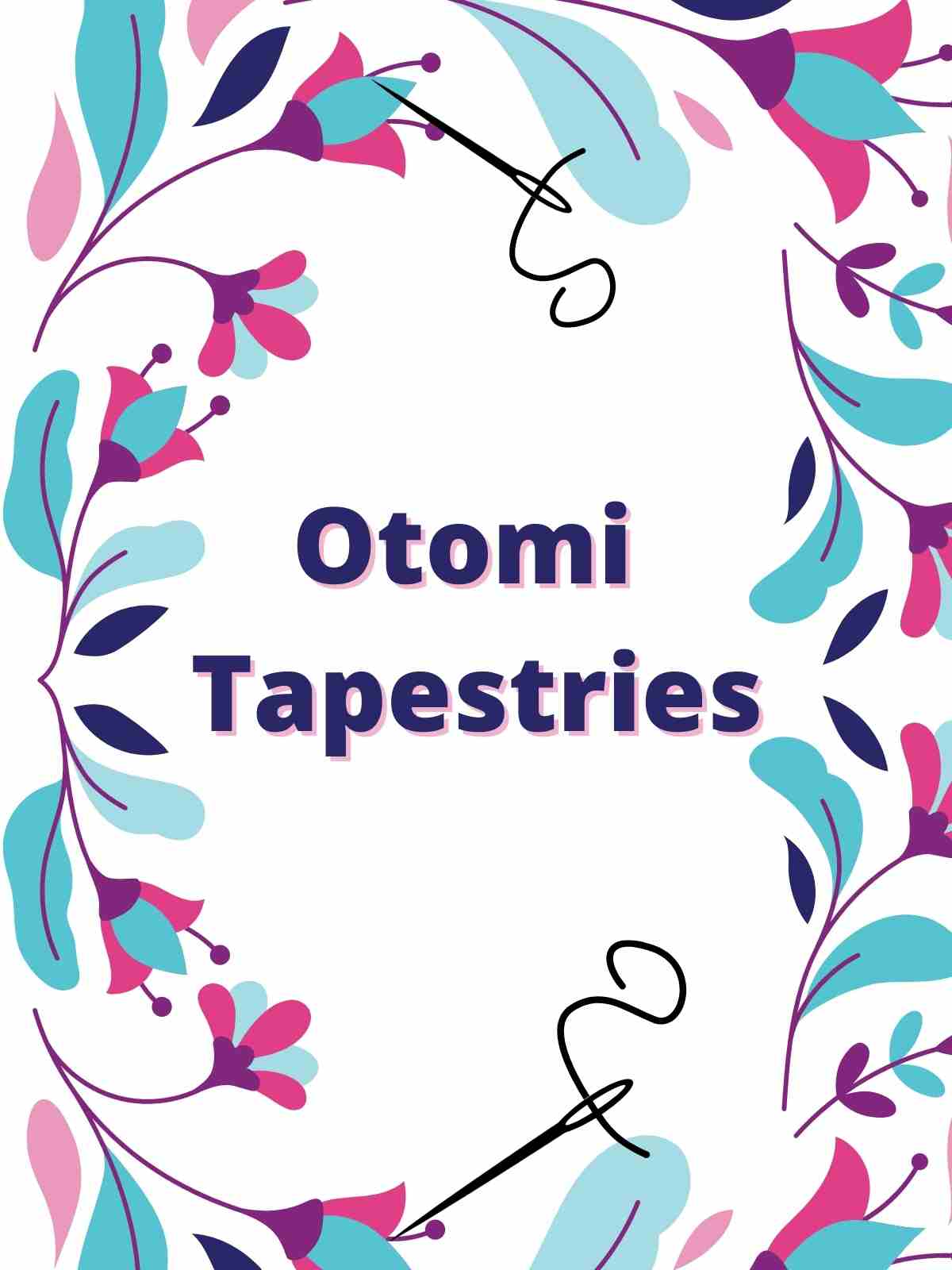 15. Anteaters
20. Otomi with Black Background
22. Classic Otomi
24. Sun Center
25. Light Blue Style
And there you have it, Otomi Embroidery. I hope you loved learning a bit about it's history as much as I did! Oh, and best of luck with your own Otomi project. Happy Embroidering!
More Embroidery Ideas You'll Love!
15+ 3D Puff Embroidery Ideas – The most common place you'll find 3D puff embroidery is on sports jerseys, backpacks, and baseball caps. But, that's not the only place! You'll also find this type of stitch on blouses, pants, and even home goods. Puff embroidery can also make a plain t-shirt look elegant and stylish. Plus, it looks great on placemats, tablecloths, pillows, and curtains. The possibilities are truly endless! 

You can also use the ideas below to embroider winter ski hats, sweatshirts, and decorative wall hangings. Consider making your own holiday decorations this year! There are a few festive patterns below that would look great in your home.



30 Mushroom Embroidery Patterns – 

Learning how to do mushroom embroidery is easy if you stick with it. Embroidery is an enjoyable and inexpensive hobby that you can do at any time of year. Each of these mushroom embroidery patterns are easy to follow and complete. Whether you're new to embroidery or are a seasoned expert, mushroom embroidery is a fun way to be creative. 

You can use these patterns to decorate hats, t-shirts, children's clothing and more. You can also frame your creation and hang it on your wall! Whether you're looking for a unique homemade gift idea, or you want to keep your designs for yourself, keep reading!

19+ Enchanting Moon Embroidery Patterns – 

The moon is a perfect inspiration to do embroidery for all selenophiles out there.

Some of the most enchanting moon embroidery patterns include a night sky with mountains, a boy and the crescent moon, a crescent moon with a cat, and moon and falling stars. 

Moon embroidery patterns are not that hard to find once you know where to look. We have compiled a list of 19+ for your stitching pleasure. So grab your hoop, needle, and thread because this is definitely one journey you will want to take again and again!