There is something magical about the moon that intrigues us in an inexplicable way.
The silvery light, the intensity of its color, and its ethereal nature has inspired and enthralled mankind for millennia.
Now, we can carry it with us by decorating our homes and clothing with designs inspired by this celestial body.
The moon is a perfect inspiration to do embroidery for all selenophiles out there. Some of the most enchanting moon embroidery patterns include a night sky with mountains, a boy and the crescent moon, a crescent moon with a cat, and moon and falling stars.
Moon embroidery patterns are not that hard to find once you know where to look. We have compiled a list of 19+ for your stitching pleasure. So grab your hoop, needle, and thread because this is definitely one journey you will want to take again and again!
Why You Should Make Moon Embroidery Patterns
Moon embroidery is a perfect hobby not only for selenophiles, but for everyone who appreciates nature, especially the bright scenery of the sky during night time. The finished product of moon embroideries can bring serenity and inner peace to a person just by looking at it. It is also perfect as a home decor or an accessory to your clothes or home object.
Who Can Do Moon Embroidery Patterns?
We prepared a list of patterns that are beginner-friendly. We chose designs of full moon, crescent moon, and other heavenly bodies that are not too complicated to stitch. With the basic shapes that form many of these patterns, even kids can do them! The moon is elegant itself so even without putting complicated decorations or details, it will still stand out and be an eye-catching decoration around the home. We have also included a few detailed designs that will challenge your embroidery skills.
List of Moon Embroidery Patterns:
A very simple embroidery pattern that is perfect for new stitchers. This design features three golden stars beside a crescent moon with small white stars scattered.
The moon is sewn with white thread on black fabric while the sun is sewn with yellow thread on white fabric. The cute face makes this embroidery pattern perfect to decorate a baby's room.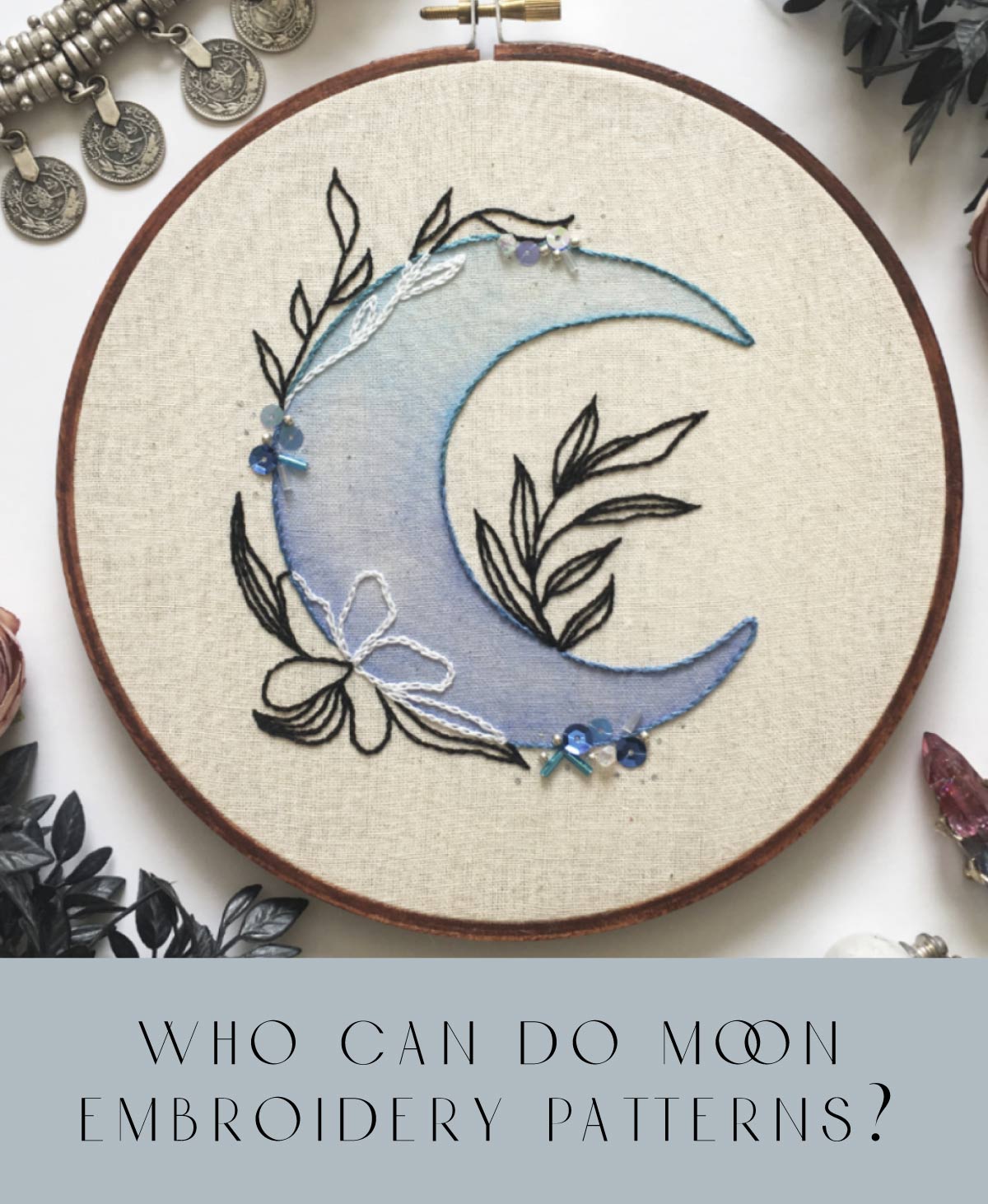 This pattern has a few variants which you can choose from. It features a single crescent with floral decorations around it. I personally like this design because of the blue floss used. If you prefer, you can also stitch it without the background as a standalone design.
This has a small crescent moon stitched in white, a shooting star, and planets. You can use a variety of colors to decorate your work.
This pattern is simply a work of art. The calmness and serenity of the mountains can be felt over the view of the night sky. This is one of my personal favorites.
This pattern is perfect for the landscape stitcher. It shows a lovely view of a moon rising above mountains together with trees and other natural elements. You can make use of blended thread to give depth to your work or just stitch it in regular stranded cotton floss for a different effect altogether.
This tiny moon is so sweet and detailed that it would make a lovely hair ornament or brooch for your little girl's dress-up box. You can stitch it in all one color (green, yellow, purple and brown) or give it more depth and dimension by using several shades from the same DMC palette. Either way, this embroidery pattern will definitely put you in touch with your inner child.
A simple yet exquisite design that works well as an accent piece on pillows and curtains and on clothing like blouses and dresses. You can use it as an applique for your existing projects or stitch it on dark purple fabric to make it stand out.
This pattern is perfect for craft enthusiasts who love cross stitch but want to try their hand at embroidery instead. This design mimics the crescent moon in the "Hey Diddle Diddle" nursery rhyme complete with a cow jumping over it. You can also use it as a pendant for your keys.
This adorable design is perfect for working with kids. It comes complete with instructions, tips, and tricks to help you work with young children on the task of stitching. Stitch it together with them or use their drawings to make this piece extra special.
This design features a crescent moon with a lavender following its shape. The intricately stitched lavender makes this design a unique piece of folk art. It can become a lovely wall hanging or a part of your dresser display. It is simple yet elegant and I personally recommend trying this design out.
This pattern is one of my quickest to complete which makes it great if you are looking for an afternoon project or a last minute gift! It is perfect for beginners who want to practice delicate line work and adding mixed media to their hand embroidery. As an additional bonus, it only requires two colors of floss which makes sourcing supplies easy.
This is a simple pattern with decorations on it. The pattern goes with a crescent moon with a bedtime hat. The moon is designed as if it was sleeping and you can also add some clouds and stars around it.
The lovely crescent moon together with the sun with their smiling face is definitely the highlight of this embroidery pattern for kids! It is perfect for stitching onto small items like pillows, bags, and dolls.
This is what you get when you combine two cute things into one design – giraffes AND crescent moons! You can stitch this whimsical design on any color fabric but it looks especially great in light shades of green, yellow, gray, and white.
This is the perfect pattern for anyone who wants to look at stargazing in a whole new way. It's pleasing to the eyes and gives a relaxing feeling.
This is one lovely pattern that is perfect for cat lovers. The black cat sitting on the moon is not too difficult to do. You can also add more stars on it.
This iconic painting by Van Gogh should be done by moon enthusiasts. The trick is to do the starry night embroidery first then attach it to the middle of the dreamcatcher. It is a perfect room decor.
This pattern has different variations but I like this one better because the slanting formation of the phases is distinct compared to the regular clockwise pattern. You only need white thread and a black cloth for canvas. You can also change the white thread to the color of your liking.
If you want something that is simple but unusual you can try this pattern. It features a crescent moon with dreamcatcher feathers hanging on it. It can be placed as a decor in your bedroom or can be hung anywhere around the home.
More Pattern Ideas You'll Love
Funny Embroidery Designs: Tap into your inner comedian with these funny embroidery designs! Who knew needlepoint could be so entertaining? Embroidery has made a comeback in recent years and with it has come some stitching ideas that are truly hilarious. Some of these designs even feature a couple of expletives. If you have sensitive family members (or kids) you may need to save those for a special, swear-word friendly occasion!
15 3D Puff Embroidery Ideas: 3D puff embroidery is just one way to add a little something extra to your embroidery designs! Whether you're new to embroidery or have been practicing for years, there's always something new to add to your arts and crafts tool box. 3D puff embroidery (literally) brings a bit of dimension to your designs – they will actually POP!