If there is an embroidery that is always a favorite, it's flowers! Roses, wildflowers, daisies, embroidering lilacs or even tulips. Any kind of flower is a new favorite to thread once I've started on it.
Did you know? Flowers will cause you to feel happy by triggering your happy brain chemicals.
There are an abundant number of varieties of flowers that exist. Wildflower lovers in your life are going to be therefore happy to open a hand-crafted gift. Listed you'll find some of our favorite wildflower embroidery ideas. You'll be able to use this list as inspiration for one thing to form for a relative, friend, or yourself. I am sure your children would love to join in and help.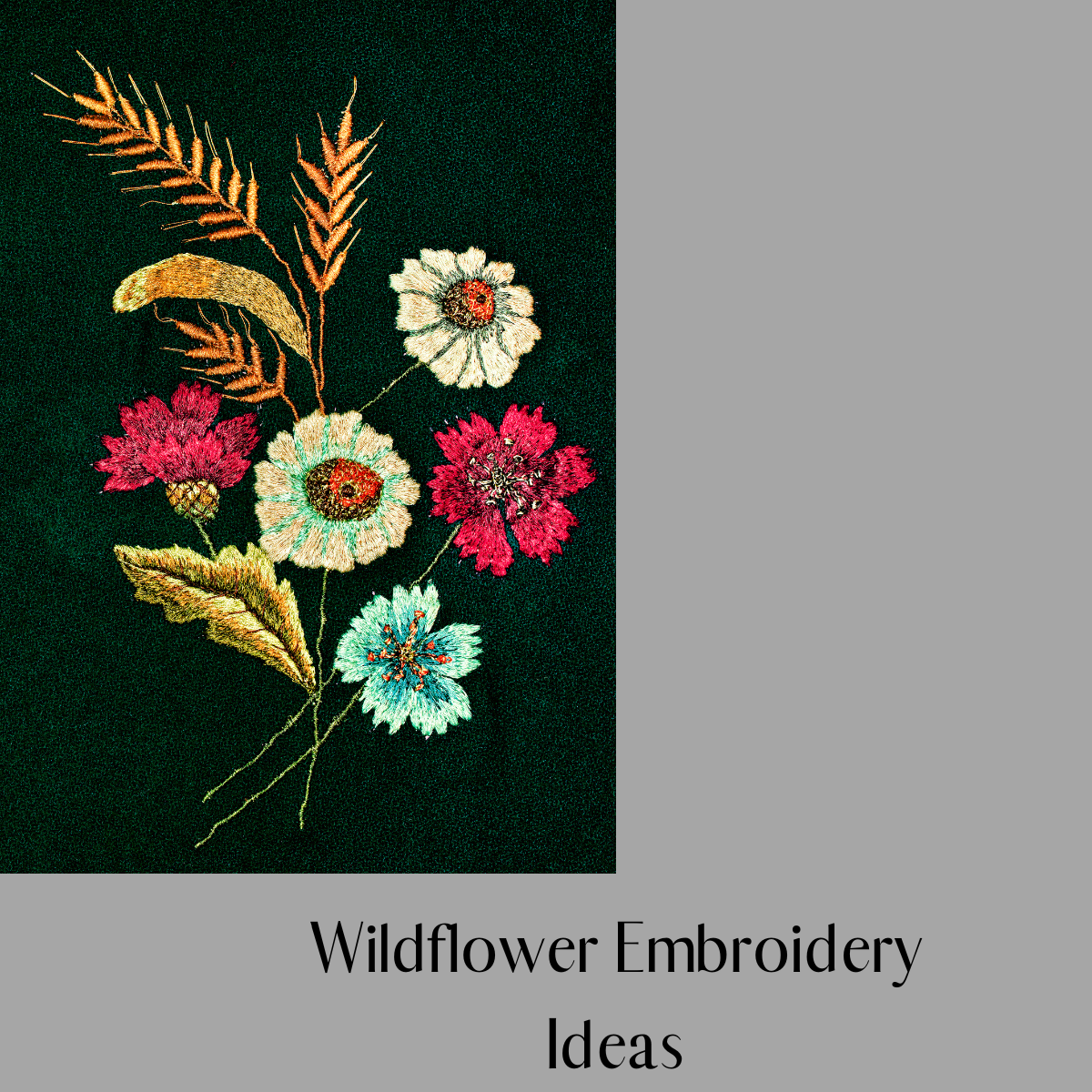 Wildflowers are one of my favorite flowers to embroider.  If you would like to make your own wildflowers then you're in the right place.
There is a long list of wildflower designs as well as ideas on things you can add. 
You will find flowers on almost anything. From cards to shirts, embroidered on jeans and handbags, to quilts, and much more.
The Meaning of the Wildflower
Wildflowers grow by themselves in nature. Wildflowers are able to basically grow anywhere. They come in many different colors and sizes.
Flowers have always been one of my favorite things in the world. They are a wonderful gift for anyone. Maybe some would choose stuffed animals or chocolates, but me I love flowers. It could be their delicate presence or how they can have the perfect smell.
If you are just starting out in learning cross-stitch, we have some easy and simple patterns to get you off on a good foot.
These patterns show how you can create these wildflowers. You may want to sew a colorful flower in a lighter tone or brightly colored or neutral shade or use it on different materials. We have many patterns and ideas.
Wildflower Embroidery Design
Wildflowers, Bees, and Birds Embroidery
18.  Modern Bee and Wildflower: This pattern idea is one that I would love to create.
19. Beautiful Bees: This pattern idea could be framed as artwork on a wall or side table. 
20. HoneyComb Bees and Wildflowers: More advanced pattern but if you are a beginner don't fret, just work your way up.  
21. Two Birds Wildflowers: Calling all bird lovers! 
22. Mockingbird with Wildflowers: This pattern is elegant.
23. Yellowbird and Wildflowers: This pattern is good for a starting point!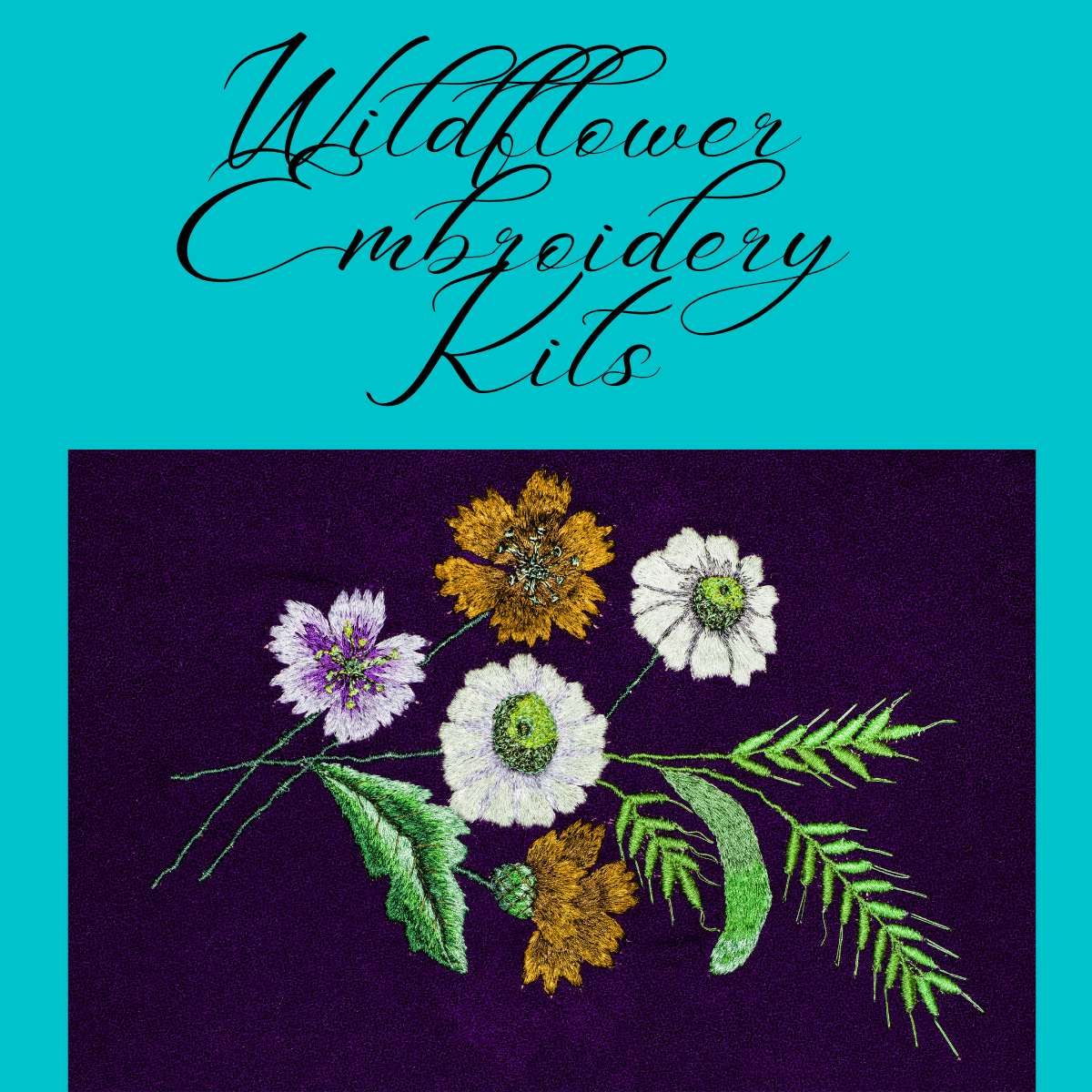 Wildflower Embroidery Kits
24. Cow Wildflower Hoop Kit: Create this pattern for a farmer friend! 
25. Wildflower Hoop Kit: This pattern will introduce you to kits. 
26. Feeding the Birds Kit: This pattern makes you think of the spring and the outdoors.
27. Cornflowers and Wildflowers Kit: This pattern is so pretty and would be great on anything. 
You can use these patterns and designs for weddings, bridal or baby showers. Cards you create or custom clothing pieces.
Maybe on a scarf, a pair of gloves or jeans. Flowers can exist in your daily life everywhere! 
Lace and Wildflowers
28. Lace and Wildflowers: Makes a great wedding gift.  
29.  Flowers and lace kit: The lace adds that extra detail. 
30.  You belong among the Wildflowers: This pattern is so pretty!
31. Bike and Wildflowers: A classic french pattern.
Lace and wildflowers complement each other and almost go hand in hand. Flowers can be found most, whether or not they are growing in the wild or in our backyard gardens, in a hanging basket, on the side of the road, or in your local Supermarket.
Flowers have been and always will be a part of our lives.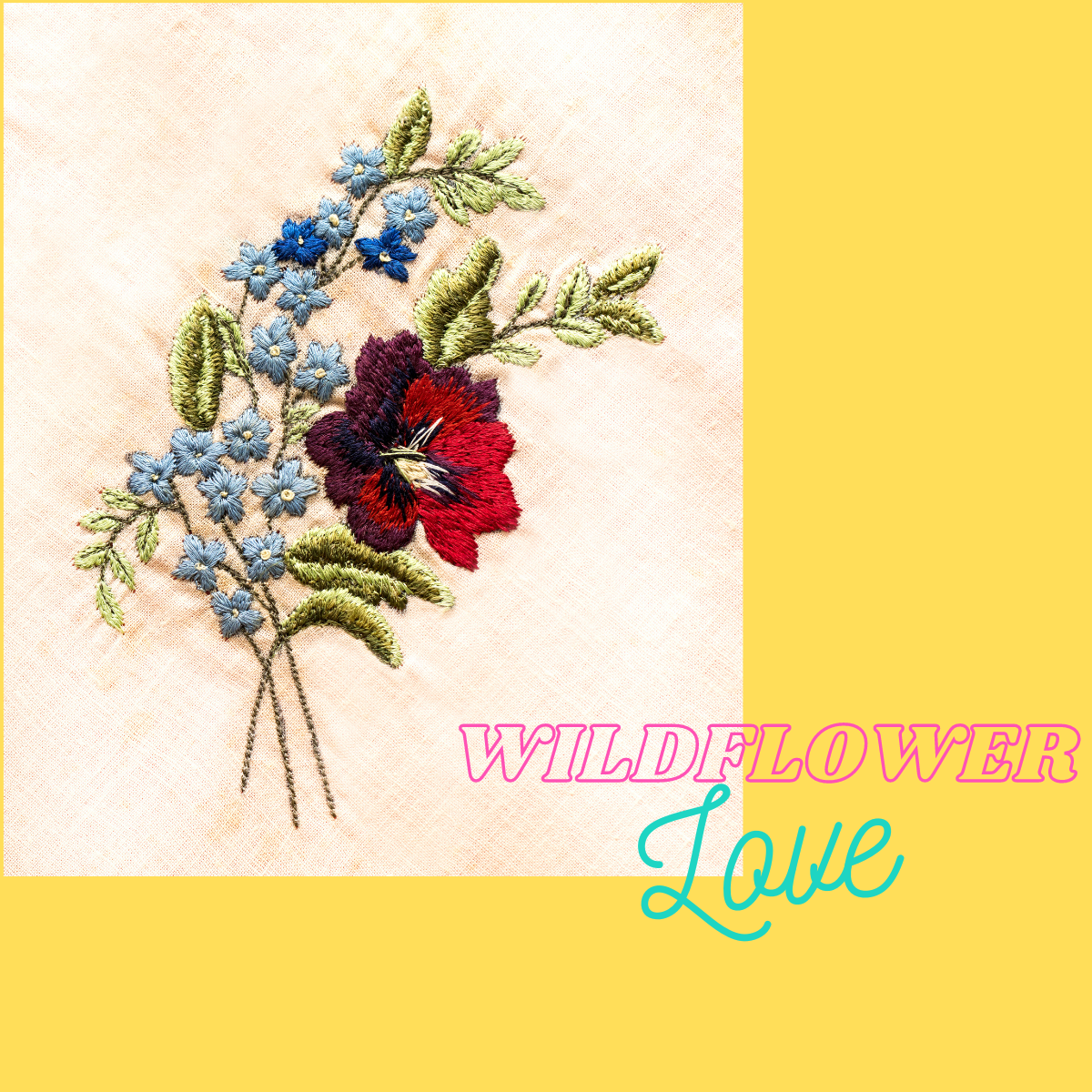 Other Floral Embroidery Design Ideas
           32. Wildflower Tote Bag: The wildflowers on this black tote are divine! 
           33. Wildflower Apron: Want to add color to a plain apron, this Wildflower pattern looks amazing
           34. Wildflowers and Butterflies: If you love butterflies then you will love this pattern. 
           35. Wildflower Stem Bouquet: This embroidery idea has a simple and basic design that looks great on a pair of jeans or on a scarf. 
          36. Little girl with Wildflowers: This pattern looks vintage-inspired. I love it!
          37. Wildflower Hanging Heart: Very popular pattern for gifts. 
         38. Golden Hour Wildflowers: This pattern is simple and appealing.  
         39. Bunny Wildflower Kit: Create this one as an Easter or Spring gift for someone.
        40. Modern Wildflowers: A great choice for black or white fabric!
        41. Leisure Wildflowers :
        42. Pillow cover Wildflower Pattern: Jazz up those boring pillow covers. 
        43. Heart-Shaped Wildflower Pattern: This project would be good as a gift. 
        44. Strawberries with Wildflowers: Strawberries and wildflowers, what a perfect duo. 
       45. Wildflower Hair Pattern: Fun and different patterns to create. 
       46. Wildflower Light Bulb Pattern: Unique and quirky design. 
       47. Easy Wildflower Pattern: This would be a great pattern for beginners to start off with and work their way up. 
Other Patterns to Love