If you've been on the hunt for some eye-catching Mexican embroidery patterns, you'll love the design ideas we've found for you! Mexican embroidery is called Otomi embroidery.
There are several different motifs and designs that go into this type of embroidery, and each one is unique. 
It isn't difficult to work from Mexican embroidery patterns, as long as you have the correct materials and proper instructions. This type of embroidery is vibrant, colorful, and beautifully simple. It features several different design elements such as flowers, animals, trees, and more. Mexican embroidery is a beautiful tradition that has been passed down through generations. It's truly an art form and should be treated as such.
"Tenangos" is the commercialized version of traditional Otomi embroidery that originated in the 1960s. There's so much history behind this type of stitching. Let's learn more about it!
Below, you'll also find our favorite Mexican Embroidery patterns to try now.
Why You Should Make These Mexican Embroidery Patterns
Embroidery has been around for centuries, so it should come as no surprise that different countries have developed different forms of stitching over the years. One way to show respect to different cultures is to learn more about their ways of life and how they express themselves. Let's explore Mexico and its traditional Mexican embroidery patterns.
As mentioned, Mexican embroidery is known as Otomi embroidery. It is traditionally filled with flora and fauna native to the Otomi region and boasts vibrant colors and motifs. The birds, animals, flowers, trees, and other greenery represent daily life in Otomi.
The simplicity of these designs is a part of what makes them so beautiful!
Many Otomi embroiderers have made sewing their life's work. That could be why Mexican embroidery has become so famous. There is so much hard work and dedication behind these stitches.
While Otomi isn't the only region where you'll find embroidery in Mexico, it is one of the most famous areas in the country for it.
All About Traditional Mexican Embroidery Patterns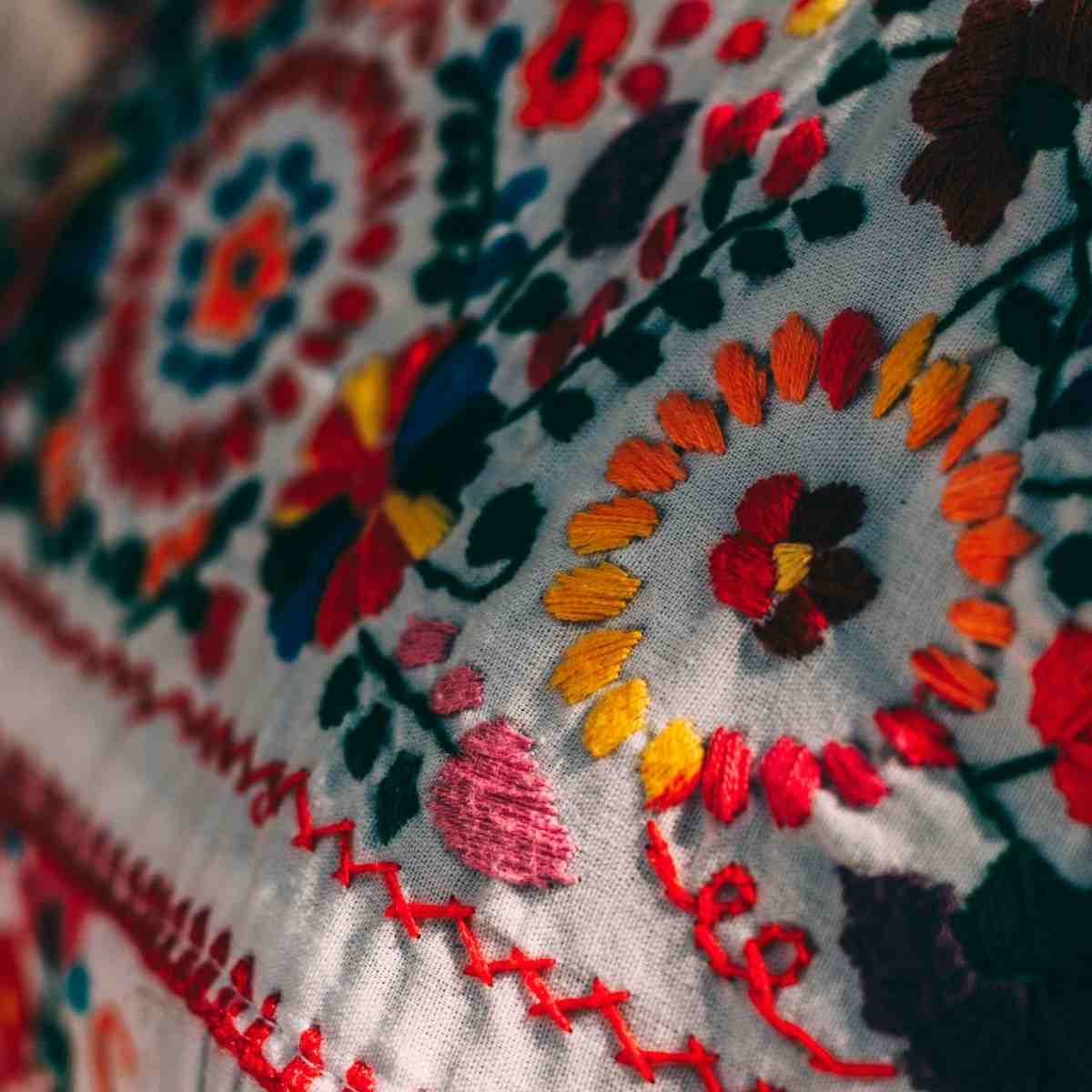 Traditional Mexican embroidery can take months or up to one year to complete. It makes sense, as traditionally, these designs are meant to cover bedspreads, tablecloths, and other large pieces of fabric. The process is generally the same as what you usually see: collect your fabric and thread, trace the pattern (traditional Mexican embroidery patterns are hand-traced!), and start sewing.
The tradition was born out of necessity in the 1960s when there was an economic crisis in Mexico. In more recent years, it has become an important part of Mexican culture – and has continued to be a profitable pastime!
Where to Find Mexican Embroidery
You can find Mexican embroidery in Mexico, of course! If you want to purchase authentic Mexican embroidery we definitely recommend that you keep an eye out for authentically Mexican vendors!
If you like going to museums, there are also a lot of great places in Mexico where you can learn more about their embroidery traditions. The National Museum of Anthropology, the National Museum of History, and the Museum of Folk Art are just a few. The importance of textiles in Mexican history is second to none, and we definitely encourage you to learn more about it before you start sewing.
Mexican Embroidery Patterns Ideas
Lucky for you, we've found plenty of smaller format designs that you can start working on right now. No need to stress about filling an entire quilt with your designs. And we promise the styles below won't take you a year to complete – that is if you stick with it!
Mexican Embroidery Designs
The patterns below are suitable for all levels, but if you're a beginner, make sure to read all of the instructions before you get started. It can be tempting to want to jump into more advanced patterns (they really are gorgeous!), but don't rush it. Practice makes perfect and the more patterns you try out, the better you'll become. It's safe to say that we love the sassy, "Shut up, stupid" with sugar skull design best!
Traditional Mexican Embroidery Patterns Ideas
If you want to keep things as traditional as you can (without hopping on a flight to Mexico, that is!), you'll enjoy the designs below. As you can see, the most traditional Otomi designs feature flora and fauna native to Mexico. These designs really do tell a story that's steeped in Mexican heritage. Plus, these embroidery pattern ideas are a lot smaller than the customary Otomi embroideries that tend to cover bedding or other homeware. That means you won't have to spend up to a year completing them!
Mexican Embroidery Patterns Inspiration
Finally, the designs below are the funkiest of the bunch! We love the embroidered jaguar, girl with ghosts, and the marigold sugar skull pattern most. There's something so satisfying about taking a practical skill like being able to sew (or embroider) and giving it a twist. These are definitely not your grandmother's embroidery designs! And we're totally here for it.
More Pattern Ideas You'll Love
21 DIY Bee Embroidery Patterns – There's just something about bees, isn't there? These cute and helpful insects are not only essential for the well-being of your favorite flowers and trees, but they are also so fun to embroider! Pair your bumblebees with florals, greenery, or other animals, or stitch up a colony. However, you decide to sew it, if you're stuck on inspiration check out these DIY options!
25 Small Embroidery Designs and Patterns – These embroidery designs and patterns are small but mighty! We love adding them to dishtowels, handkerchiefs, baby clothing, pillows, and more. Alternatively, you could sew several together for a fun, mosaic design! The patterns on this list often feature one or more types of stitches. This is a great list for those of you who want to learn some new embroidery techniques.
35 Funny Embroidery Designs – Fancy a giggle while you get your arts and crafts on? You'll love this list of funny embroidery designs! Embroidery doesn't have to be serious. In fact, the more fun you have, the better your project will be (in our opinion!). Whether you want amusing images, hilarious puns, or maybe an NSFW saying (we won't tell on you), you'll be in stitches while you stitch. See what we did there?