Inside: Stunning leather embroidery examples for personalization of your leather goods.
Leather pieces, if originally made in good quality, are some of the most prized pieces of your closet. Jackets, handbags, pants, anything. A fine leather garment can last you a lifetime and is worth the investment. If you go vintage shopping you'll notice that it used to be pretty popular to have your leather personalized as well.
Names, schools, graduation year, military details, clubs, states… the list goes on of the things I've seen embroidered on a leather jacket. And I think we should bring it back!
I collected some stunning leather embroidery examples for you to get inspired to brand your leather pieces for life.
Bring your pieces to life with these leather embroidery examples and ideas! The possibilities are endless and this kind of project can turn your beloved leather handbag or leather trench coat into something of a family piece you hand down for generations.
How To Personalize Leather With Embroidery
While there are a ton of shops that offer leather embroidery services, it's totally possible to do it yourself if you're good with an embroidery machine. This isn't generally a project you take on by hand.
You can do this on your normal embroidery machine with a leather needle, and a little thicker thread. Otherwise, it's a pretty similar process.
Patches are always an option too, when it comes to personalizing leather. You don't get that higher-value feel by sticking a patch on a jacket, but it's low commitment and you can buy the embroidered patch as-is and use it on anything!
Check out these examples and maybe some patterns if you desire, or just narrow down what you want to get stitched onto that leather belt when you take it in!
Embroidered Leather Gift Ideas
If you're gift shopping, anything made of leather screams quality and value, so it's a great gift. But sometimes a belt or bookmark simply doesn't feel personal enough, so it's time to take it s step further and get it personalized.
Depending on where you buy the piece, they may have embroidery services for you to utilize, and sometimes it's complimentary with your purchase! Amazing.
If this sounds like something you want to do, but maybe aren't sure what you should get in leather to begin with, here are some of my favorite leather gifts to give or receive. Only made better when personalized.
Wallet Or Cardholder – Wallets are always a great gift idea for him, but make it a little more special.
Purse Or Backpack – A recent graduate or new professional would adore this.
Bookmark – Your family's book worm might love a personalized bookmark for their reading adventures!
Jacket Or Vest – These are iconic– simulating a cool biker jacket or with a family or school name on it, it's an incredible gift for the lover of edgy style.
Keychain – Daily reminders.
Journal – For the writer.
Gloves – Leather gloves are a total luxury item, and personalized is only better.
Belt – We all need them, how cute of a statement piece would it be to have a favorite flower, the state of Texas, or initials embroidered on it?
Valet Tray – A little place for your keys, your earrings, you name it. A great leather gift option for someone you're not sure would use anything else.
How Does Embroidery Add Value To Leather Goods?
Craftsmanship and sentimental value are everything when it comes to vintage and long lasting pieces.
Again, leather is likely a piece you'll keep in your wardrobe forever, and if it's quality leather, may be handed down the family over time. Embroidery work like back in the day makes things personal, and how much do you love finding something in a vintage store that clearly meant a lot to someone at one point?
Finding a personalized leather purse doesn't just tell me that it was her favorite purse, it shows me how much value it really had for her to take the time to get it personalized.
It's more of a sentimental value, but it shows how much YOU value the product, and that's a beautiful thing to put on a quality piece. It has a little bit of you on it, versus being straight out of the store and just like everyone else's.
Leather is already valued as a beautiful craft. Embroidery is a detailed project that not just everyone can do with leather, so it adds value by adding an extra amount of craft that has gone into the product. Especially if it's an in-depth embroidery pattern, that simply just adds to the value and craftsmanship of the leather item that is already highly valued.
Leather Embroidery Designs
Ready to take those leather pants in to have the pocket embroidered? Or that vest? Maybe a bookmark? Here are ideas for anything and everything you could be taking in for embroidery! Or doing it yourself. The possibilities are endless and that can be totally overwhelming.
Find some inspiration here and narrow down your options with some of these super stunning leather embroidery design examples!
1. Heart Keychain
2. Floral Belt
3. Wallet Poppies
4. Embroidered Backpack
5. Cuff Bracelet
6.Intricate Jacket
7. Stocking Labels
8. Embroidered Leaves Pants
9. Corner Mark
10. Romeo And Juliette

Embroidered Patches For Leather
Patches are a simple fix and maybe even a good trial run to see if you like the idea of embroidering that expensive leather purchase before you really give it a go. It's a temporary solution that also can look so, so cool.
Check out these embroidered patches that will work great on your leather as you need it to.
11. No Roads No Problem
12. Animal Faces
13. Clever Bones
14. Death Before Decaf
15. Bulk: Mix Tape Patches
16. Travel
17. Flaming Dice
18. Stay Peachy
19. What Goes Around
20. Magic Trick
21. Avocado
Patterns For Leather Embroidery
Ready to take on the challenge yourself? Here are some patterns for you to try (maybe on some test pieces of fabric first!) to make that handbag truly one of a kind. I believe in your embroidery abilities, and so should you!
These patterns will add something special to your leather items, and the final product will be something so lovely you won't ever want to part with it! Patterns for leather embroidery is the same as on any other fabric, so these are some of my favorite leather embroidery ideas!
22. Positive Quotes
23. Celestial
24. Such a pretty pattern for kids designs
25. Blooming Flower
26. Skull Ice Cream Cone
27. Snake And Greenery
28. Hand Of Stars
29. Citrus Wreath
30. Boho Sun
31. Drippy Nike Logo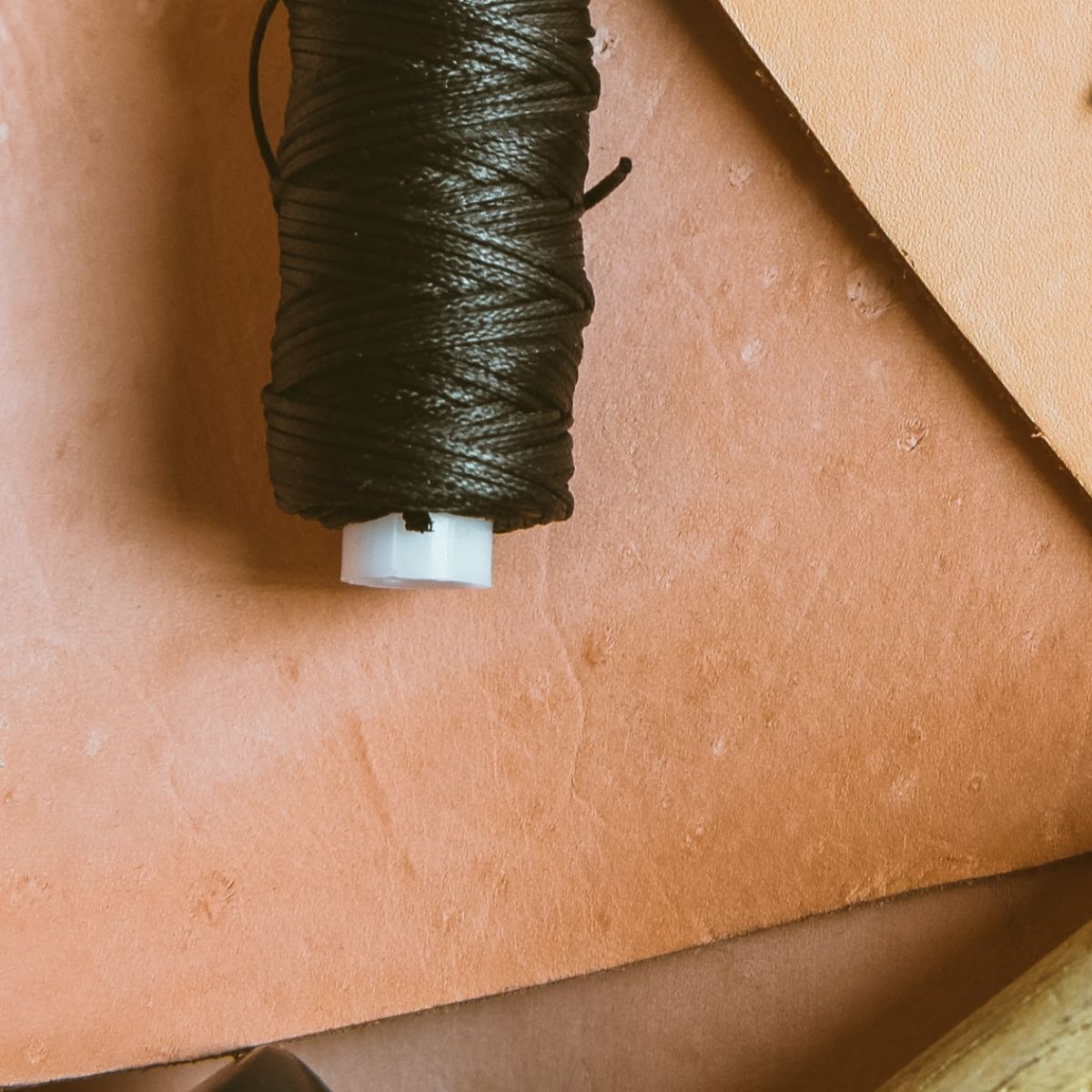 Leather is pricey for a reason. It never goes out of style and you can always count on it being a statement piece in your closet. While it remains a staple, it's always cooler to personalize it for some edge.
Decorate some of your favorite pieces with cool designs and/or colorful thread, and you'll cherish them for a lifetime. Leather embroidery is an added value to these pieces, and you're going to love the outcome!
Since embroidery is a craft that takes time and skill, it's always going to add to a product, rarely will it take away from.
Hopefully these examples and ideas showed you some ways you can step up your leather game, and how you can personalize it for gifts or for yourself.
I love embroidery work with names, it makes items so special. I've collected 43+ ideas for name embroidery you can checkout for some inspiration for your leather goods!