Update your hat collection with these fun hat embroidery designs! Is there anything better than sporting one of your own unique and special creations? Nope!
Decorating your own clothing and accessories is so rewarding.
You know that you won't see anyone else rocking your designs – unless you make your loved ones a gift, that is.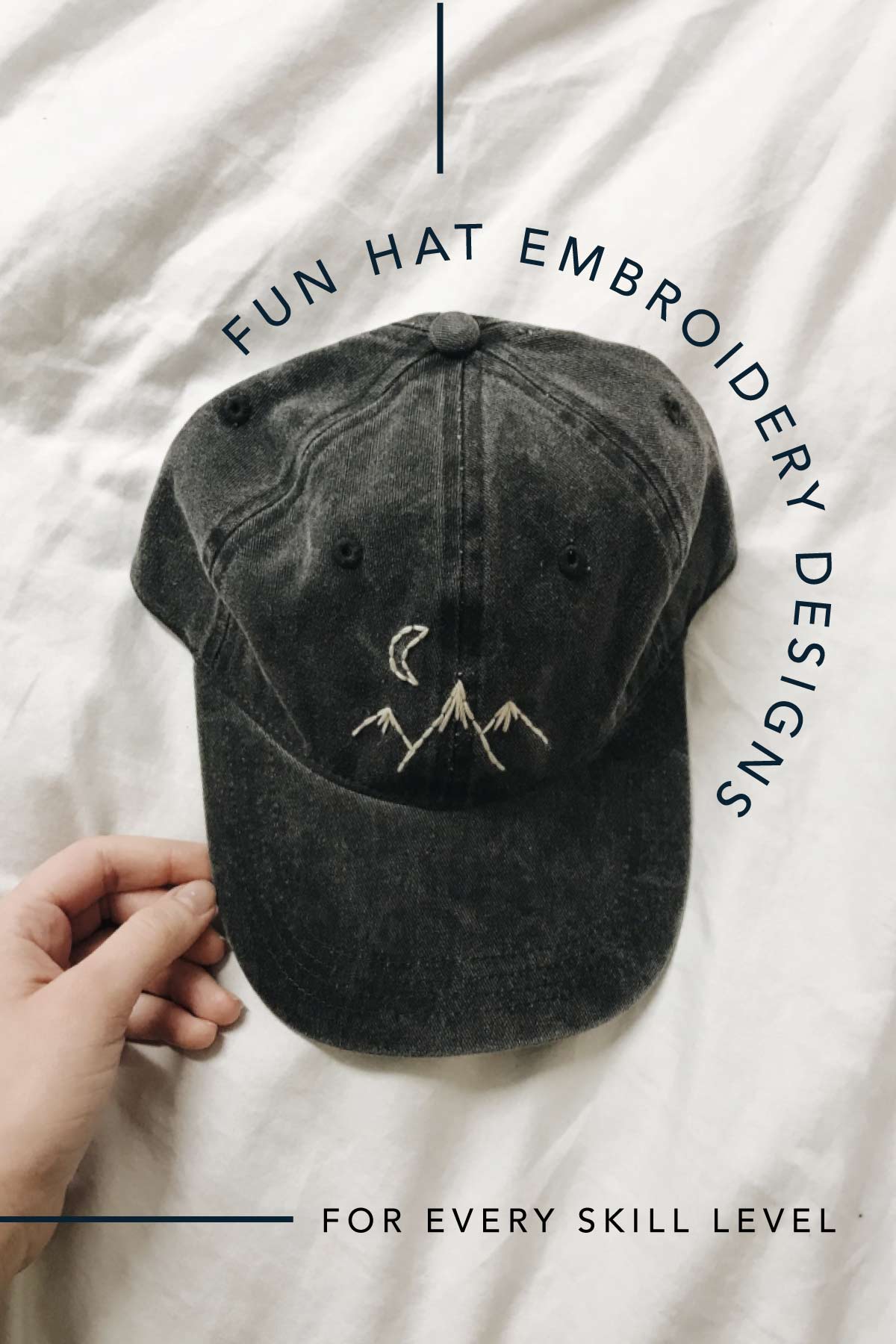 Make the most out of your headwear by adding a fun hat embroidery design! Hat embroidery isn't difficult, as long as you have the right materials and some free time. Choose between baseball caps or beanies. Once you get started, you'll notice how easy it can be! Don't be afraid to get creative with these patterns and ideas and make a one-of-a-kind embroidered hat! 
These patterns will give you plenty of ideas and inspiration for your next embroidery project. Head to your closet and pull out your most boring hat, grab your needle and thread(s), and let's dive in.
Why You Should Make These Fun Hat Embroidery Designs
You should make these fun hat embroidery designs if you're looking to update your wardrobe! Hats are making a comeback (did they ever go out of style?), and you're going to want to get in on this new trend. Plus, embroidery has also just had a renaissance, so you'll be the coolest around if you sport a hand embroidery baseball cap!
There are so many design options out there to choose from. If you love nature and the great outdoors, consider stitching a mountain scene or a field of wildflowers. If you're an animal lover, how about adding one of your furry friends to the mix?
You can also practice your lettering and sew your initials – or maybe a unique take on one of your favorite sports teams. If you don't like baseball caps, you can put these designs on any type of headwear. From beanies to bucket hats and beyond, there is something out there for all types of styles!

Everything You Need to Know About Making These Baseball Cap Embroidery Designs
Some baseball caps are made from thick fabric, so take a good look at what you're working with before you get started. Then, select a thick-enough needle so that you don't need to worry about anything breaking or getting stuck.
You also need to make sure that you have enough thread to complete your design. There's nothing worse than running out halfway through. If you don't stock up, you also take the risk of not being able to find the right thread. Embroidery veterans know that there's nothing worse than that.
Gather your materials, check out what your hat is made of, select your pattern, and find a comfy chair. You're ready to begin!
Hand embroidery or machine embroidery?
If you've already started scouring the internet for fun hat embroidery ideas, you've probably noticed that there are a ton of machine embroidery ideas out there.
Be aware: in order to use machine embroidery patterns, you must have a specialized embroidery machine. It may seem obvious, but nothing is worse than finding a pattern you love, only to determine that you don't have the right materials!
All of the hat embroidery designs in this article can be done by hand, meaning no need for a special machine. Score!
Fun Hat Embroidery Ideas
Whether you're planning on wearing your new embroidered hat yourself, or if you want to give one as a gift, there are plenty of options out there. Matching embroidered hats are also a great touch for birthday parties, bachelor/bachelorette celebrations, or even weddings.
Ever since embroidery has made its comeback, crafters have been putting it on t-shirts, jeans, backpacks, in frames, on napkins, and more! You can place your stitches on basically any type of fabric, depending on the materials you're using.
So, choose your fighter. If you have a hat made out of fabric, you can embroider it!
Cap Embroidery Designs
Between sports teams, florals, outdoors scenes, and more – you're sure to find a cap embroidery design you'll love! Use these designs as a jumping-off point, and then feel free to add your own personal touch to them. If you see something you like but aren't sure you'll be able to pull it off, start slow. Like any skill, embroidery takes practice, so don't get discouraged if you mess up a few times! That's the beauty of embroidery – you can always start over from scratch.

Hand Embroidery Patterns
We've already mentioned that there are a lot of machine embroidery patterns out there for hats. It's understandable, machine embroidery can be really satisfying and beautiful – if you have the proper equipment. If you don't, don't give up just yet! There are tons of hand embroidery patterns available for hats. Below you'll find even more options with lettering, so if you want to practice your needlepoint ABCs, opt for those patterns!

Hat Embroidery Designs Inspiration
Get inspired by the hat embroidery designs below. That's just one more thing we love about embroidery: you don't technically need a pattern! Many more advanced stitchers are able to recreate designs by simply looking at an image (kudos if you're one of them!). If you're not there, quite yet, don't worry. It takes some practice, but if you dedicate a few hours to embroidery each week, you'll get there in no time. Try and try until you succeed!
More Pattern Ideas You'll Love
3D Puff Embroidery Ideas – You'll need a special embroidery machine to pull off these 3D puff embroidery ideas, but don't let that intimidate you! Many traditional sewing machines also have an embroidery setting, so make sure you check your machine before you get started. If you want to start churning out sportswear with your favorite team's logo, 3D puff is the way to go.
Funny Embroidery Designs – Have a laugh with these hilariously funny embroidery designs! Between punchy puns, deliciously inappropriate sayings, and humorous images, you'll be in stitches as you stitch (see what we did there?)! Consider placing one of these designs on a t-shirt so that you can show off your needlepoint skills AND your sense of humor! We also think these design ideas can make for a unique (and funny) way to decorate your home. Plus, they also make fabulous gifts too.
Fun Fish Embroidery Patterns – Take a trip under the sea with these fish embroidery patterns! Fish are some of our favorite creatures to stitch. With design ideas for beginners and experts, there's something for everyone. We think that fish embroidery makes for a great gift for a newborn, toddler, or even teenage bedroom. The options are endless! You might say…the world is your oyster.