I've been very captivated by butterfly embroidery patterns lately. The beautiful butterfly has been the subject for works of art for ages.
They're so graceful and gorgeous! Symbolically, there are cultures that associate them with transformation, hope, bravery, and change.
All of this makes the butterfly a great subject for embroidery!
Butterfly embroidery patterns aren't difficult to make at all! You can use any filling stitches to fill in the wings, and you can use almost any material as well! Felt, sequins, beads, and ribbons can all look fabulous in your project. While stitching designs always vary in difficulty, there are several tutorials and easy patterns available to choose from to help you get started. 
Here are some fantastic butterfly embroidery patterns that I've come across in my recent obsession!
I particularly love the bright monarch patterns, as well as those that incorporate flowers. And all are great for gifts!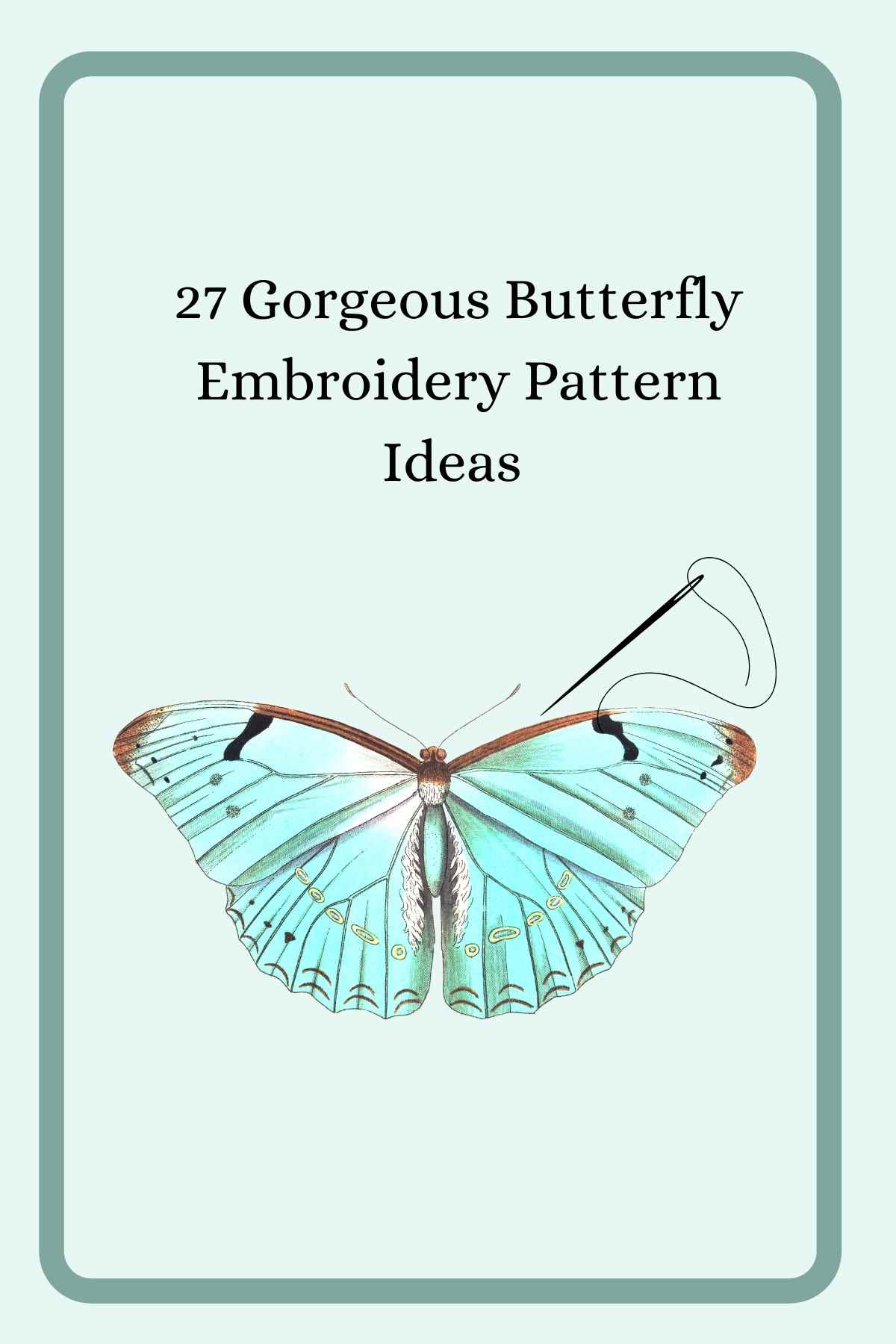 Why You Should Make These Butterfly Embroidery Patterns
Butterfly embroidery patterns are a particularly great way to welcome the spring season. They also look great with other springtime subjects, such as flowers and birds. Altogether, you can create a captivating spring scene that will warm your heart even in the dead of winter.
A small butterfly design is a great addition to any project or gift. I mentioned before that this majestic insect is a symbol for hope and for the future, so they make wonderful keepsakes for friends and family! Butterflies look great on everything: hats, bags, towels, pillows, socks… even shoes are cuter with these little guys! They also look great in any color or with any material.
In my opinion, butterfly embroidery patterns are also a great way to get into the hobby. They are simple to make and also have you focus on symmetry, teaching concentration, and good habits from the very beginning.
Transferring Your Butterfly Embroidery Design To Fabric
You'll first want to mark the fabric you'll be using. You can trace your design if you're using a thin fabric and placing it on a bright light source, like a window. Heat transfer pencils are made specifically for transferring designs to fabric and are a great choice! Keep in mind that these markings will be permanent compared to a regular pencil.
Carbon transfer paper might be the easiest option. And, in a pinch, you can trace your pattern onto some tracing paper, baste the paper onto your fabric, stitch through the paper, and then remove once complete.
Butterfly Embroidery Ideas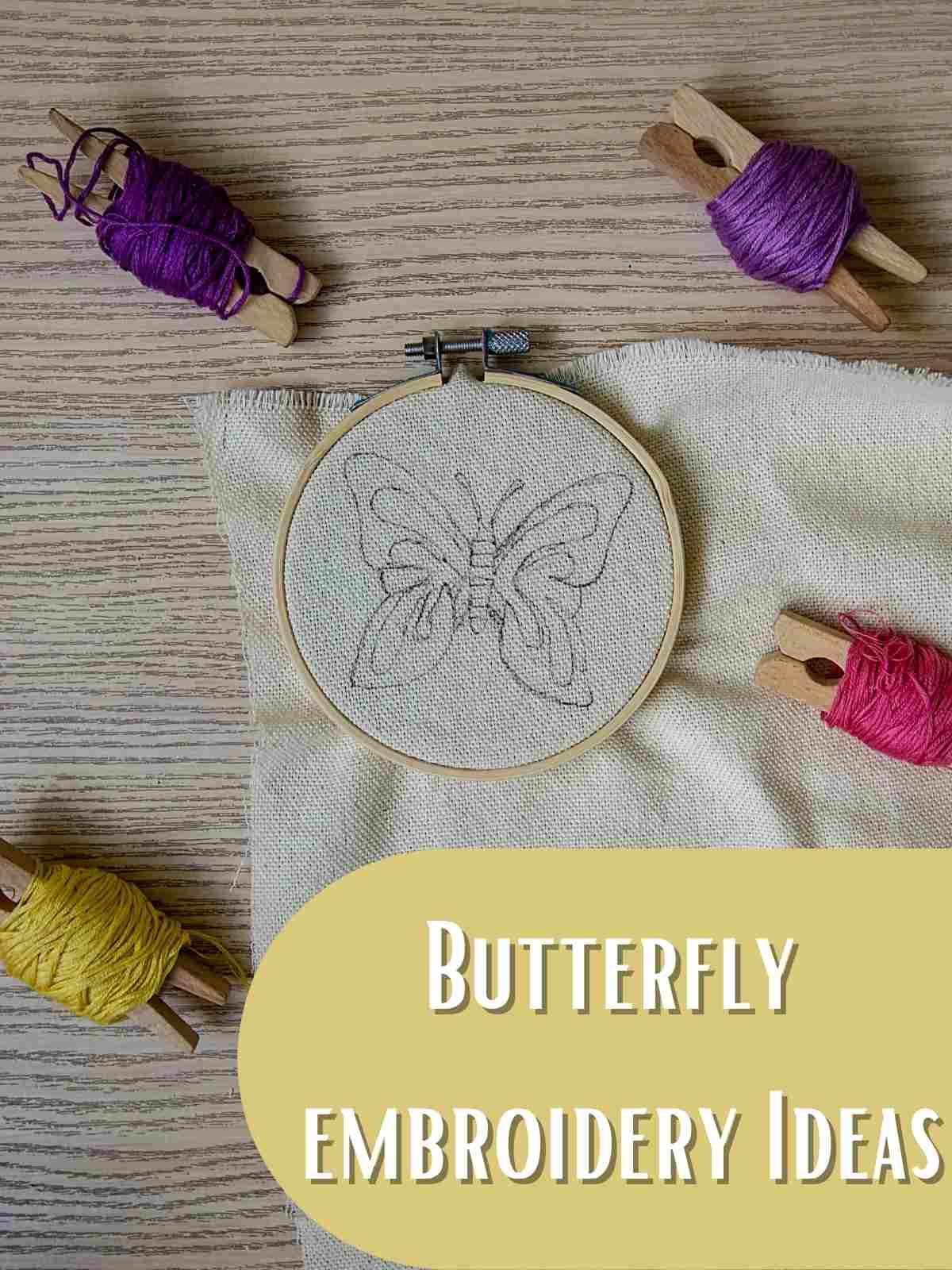 Because this is such a versatile design, you'll see all sorts of variations and ideas. Monarch butterflies are very popular because of their attractive orange colors, and there are many bold and bright patterns as well. Butterflies are often depicted with flowers to show them in their natural habitat. You'll also find quite a few simple, minimalistic designs that focus simply on the butterfly.
If you find some of these overwhelming, don't worry! I've included some easy kits and tutorial designs as well to help you get started.
Majestic Monarch Butterfly Embroidery Patterns
When you think of butterflies, monarchs are likely the first kind that you think of. They're large so they're easy to see and have easily recognizable bright orange wings. Monarchs are my favorite! And they seem to be the favorite of many other hobbyists as well. Check out some of the most gorgeous monarch designs that I've come across and can't wait to try!
Easy Butterfly Embroidery For Beginners To Try
I don't want you to feel overwhelmed by some of these designs! Stitching this sweet winged creature is actually fairly simple. To help you get started, here are a bunch of great, easy designs and tutorials that will walk you through your project from start to finish. Most of these are hand stitch designs and guides. They will be great for teaching you methods that will be applicable to other projects that you'll try in the future.
Bright and Colorful Butterfly Embroidery
With large, beautiful, iridescent wings, butterflies capture so much color and light that it's hard to look away once you've got one in your sights. These butterfly embroidery patterns capture that beauty and color! These designs are perfect for items around the home, such as pillows and towels. They would also look gorgeous framed and gifted to friends and family.

Sweet and Simple Butterfly Embroidery Patterns
You don't need a ton of colors and details to represent this subject well in your design. These simple, minimalistic designs prove it! Take a look at a few small and refined designs that are easy to stitch and would look great on clothing and accessories. I already have 4 different hats in mind that I'm going to make with some of these!

Fresh and Floral Butterflies to Embroider
You almost can't think of butterflies without thinking of flowers. After all, that's where you always see them! Here are a couple of botanical scenes and designs that capture this beautiful insect among some flowers and other plants. I recommend these designs for blankets and framing as well, as they are some gorgeous scenes that you don't want to have cut off!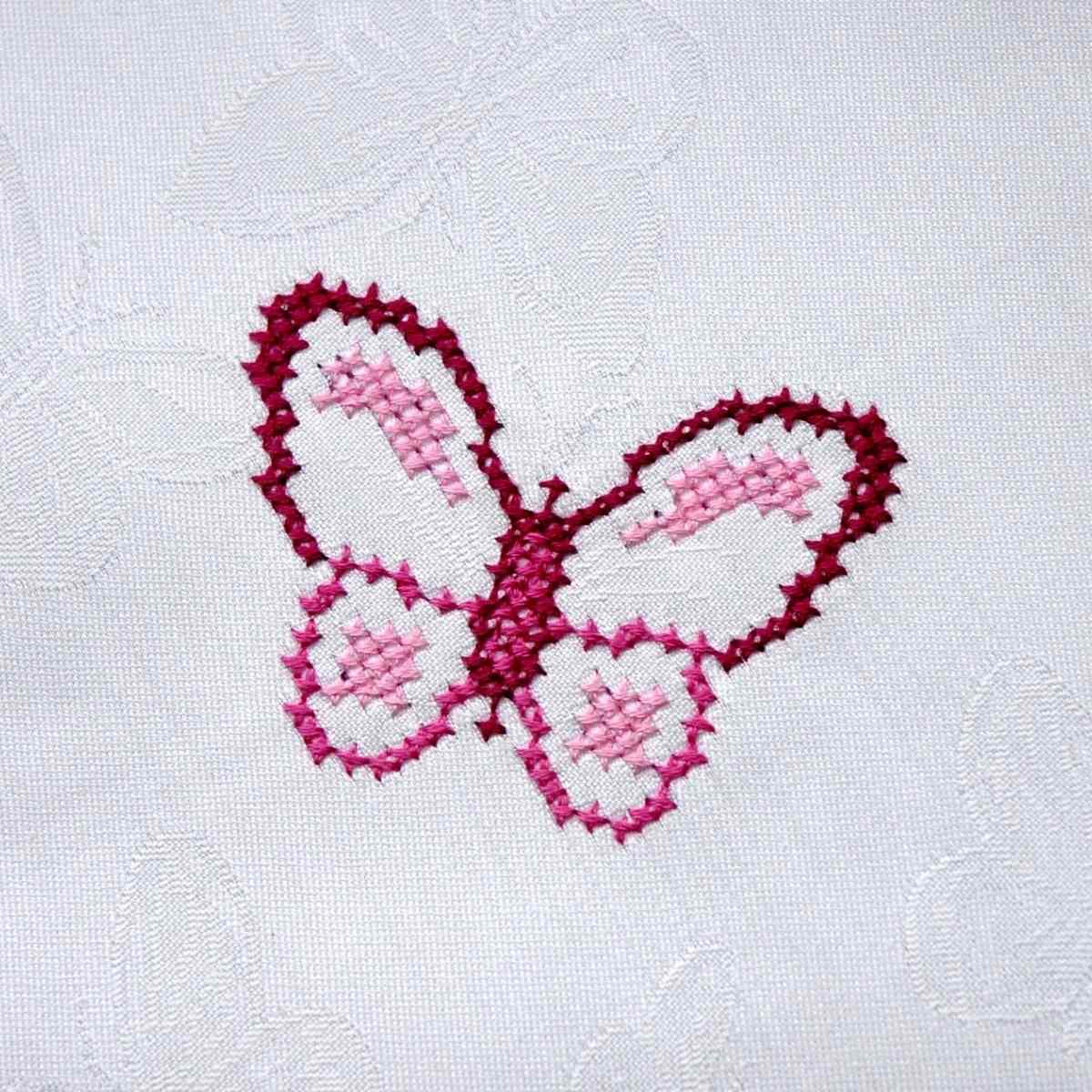 More Pattern Ideas You'll Love
35 Funny Embroidery Designs – I love giving out framed stitching as gifts, but not everyone loves a cute keepsake. That's why I'm obsessed with funny designs! They tend to be pretty easy, too. Most are cute, silly pictures with a short saying somewhere on there. Punny and funny, you and your friends will get a kick out of these. Check them out!
30 Festive Christmas Embroidery Designs – Speaking of presents, a homemade and embroidered gift is something that anyone would be happy to see under the tree. Christmas is the season of giving, so try personalizing some projects with these festive Christmas designs! From cheesy to corny to classy, you'll find a design that'll suit everyone on your list. But be warned- everyone will want another one from you next year!
27 Sunflower Embroidery Patterns – Bright, cheerful, and oh-so sunny, these sunflower patterns are just what you need to add a little summertime to your day. Whether you prefer working by machine or by hand, there's bound to be a design in this list that you'll want to rush and make right away. Take a look! Challenge yourself with a complex design or take it easy with a simple one.